In all honesty, there are too many days where I wish my homework would consist of Netflix instead of organic chemical equations. Not that there's anything wrong with chemistry, but there certainly isn't anything wrong with movies either. Good thing Dr. Miller thinks so too – with classes like Christian Faith & Cinema, Screenwriting, and Film Theory & History, you can learn about and watch movies in class and for homework.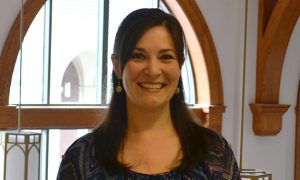 The Communications discipline is full of diverse areas of concentration, including the study of film. I've had the opportunity to sit down with Dr. Kimberly Miller, professor and academic advisor to Communications students, who has a passion for teaching and writing film. Dr. Miller has been teaching at Grove City College for over 10 years, and is a wonderful resource in teaching students about the importance of the history and industry of film in our lives.
When I asked Dr. Miller why she chose to teach at Grove City, I was surprised to hear she really never planned on teaching at all. "I studied English writing in college," she explained, "but I had a professor who asked me to fill in on teaching her film class one day [after graduation] and I just loved the students and their excitement to talk about advanced film theory." Born and raised in Western PA, Dr. Miller naturally felt at home in Grove City and was amazed at the support and encouragement she received to begin teaching in the Communications department.
With the broadness of the communications discipline, Dr. Miller pointed out, "Flexibility is huge. Our classes support each other and allow for transferable skills to help figure out our paths." Many classes and electives offered within communications include writing, presentation, and creativity skills that can be used in class and in the real world. Dr. Miller places a huge value in internships as "an opportunity to test drive your career path, and also be flexible to learn the field." Taking the transferable skills utilized in the classroom to a professional work environment is a great way to prepare yourself for what the industry entails.
The idea of using a communications degree as a way to get involved with film is not something you might expect at a private Christian liberal arts college. One of the great things about offering film courses with the Communications degree is the variety it offers in a new way of writing and telling stories. Dr. Miller explained, "Film used to be a required course, but now it's a choice elective. People would always ask 'why do we have to take it?' If you don't love film that's fine, but historically film has impacted us so much." Even though it's fun to watch movies for homework and analyze characters, film goes beyond Netflix culture. She continues, "Film tells stories, it's a cultural language that we can all appreciate. It isn't a mindless activity."
Dr. Miller's film classes are rather popular and often appeal to non-Communications majors. She said she frequently gets biology, political science, and education majors in film classes looking to improve writing and understand how to use film as a learning tool. Dr. Miller elaborated on how the department is focused on including the technical side of communications saying, "We're looking forward to encouraging more internships and making yourself more marketable. As you take on a lot of things, having practical experience can support the theoretical side of Communications."
Along with her love of film and enjoying movies with her family, Dr. Miller also relaxes by making jewelry. Whether it's whipping up a pair of earrings as a gift to a friend or attending a craft show, Dr. Miller appreciated expressing creativity in and outside of the classroom. So whether you need a great movie suggestion, writing inspiration, or just a great person to talk to, Dr. Miller is an amazing asset to the Grove City family.
Interested in pursuing film or photography as a career path? Read about some possibilities here on various jobs in the media industry.