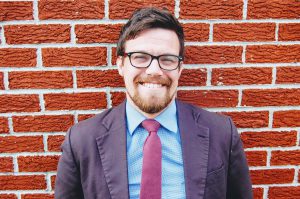 In my time at Grove City, I can honestly attest to the caliber of faculty that spans all of the departments.  From English to History to Chemistry to Art, I have experienced professors who not only love their classes but also those taking the classes.
That is not to say I've only experienced the kindness and friendship of professors in the classroom or, for that matter, the professors I have had. In the last year I have the pleasure of getting to know the personable Dr. Josh Mayo.
I never had Josh as a professor. In fact, the class he was hired on to teach was added after my freshman year. However, we met initially, I believe, at our church, Grace Anglican. We were aware of each other, but never had an honest conversation.
This fall at Homecoming my housing group, the Tri-Rhos, had a barbeque for the alumni, and I first met Josh. It's odd how you meet professors outside of the classroom setting, get used to calling them by their first name, and then realize that their actually an employee at Grove City. To this day, despite that he recently received his Doctorate, Josh insists that I refer to him as just that, "Josh."
During his time at Grove City College, Dr. Mayo majored in English and continues to pursue his love of literature to this day. After meeting his wife at the school, they moved to Oxford, Mississippi and then to Dallas, where he spent time at the University of Dallas.
"It was in that five year span that I began thinking about poetics, rhetoric, and the arts of language, the topics that drive my teaching interests today."
He always knew he would return to Grove City though. There was something about the quality of people that emanated a joy he couldn't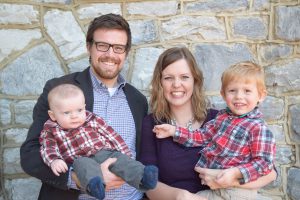 keep away from.
Dr. Mayo received his Ph.D. in studying the didactic principles of Shakespeare. Some scholars assert that Shakespeare only intended his plays to entertain, but Dr. Mayo doesn't adhere to that school. He asserts that Shakespeare clearly wanted his works to be taken as lessons, as evidenced by the play-within-a-play format.
I see Josh and Bethany at Grace regularly, whether it be in the congregation or up leading worship. They haven't just integrated themselves into campus life, but also in the community.
"Bethany and I love the community here in Grove City. This is where we want to raise a family. It's a good place to put down roots."
I have been truly blessed to make the acquaintance of Josh and Bethany. They are both truly wonderful, caring individuals that have showed me the benefit of caring for those around you and for the work that is at hand.
Dr. Mayo is only a single case study of all the truly wonderful individuals who get up in front of a classroom and pour out their passion for 50 minutes to an hour and 15 minutes.