Anne Shirley Dassow
Class of 2020
Double Major Biology: Health and Spanish
Campus Involvement:
Varsity Women's Swim team
Pre-Health Society
Vice-President of Crown and Sceptre
Spanish Club
How do you manage to balance academics and a varsity sport?
Honestly, the balance comes through really careful planning of how to use my time with clear and strict organization. Last year after a class I decided to not do homework on Sundays as a challenge from my Bib Rev class, so it's been really strict on my time.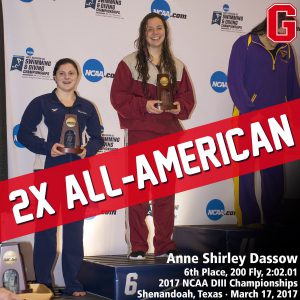 How was it to get to be named a multiple All-American as a freshman? Tell us about your NCAA experience?
Sophomore year of high school I swam really fast times. I was really surprised and I was really excited for how things were going in high school. Junior and senior year I went slower so I thought I peaked in high school. I didn't expect to get faster in college at all. I was surprised when I qualified in two events for NCAAs. The NCAAs were a week long meet in Shenandoah, Texas. The Grove City team had a couple provisional qualifiers, but I was the only one invited to come to the meet. I was allowed to bring another teammate who was super supportive in a very hands-on way. I competed three days in a row, ended up getting 7th in the 100 butterfly, 6th in the 200 butterfly and 35th in the 200 backstroke. It was crazy because NCAAs were on my radar since high school and being a multiple All American hasn't changed much in my life. I planned on swimming all four years. I didn't expect to get faster. I loved swimming. Everything was fun last year and it turned out to be a little bit extra, but didn't change my viewpoint on swimming. I'll stay positive and this was just a reward for my hard work.