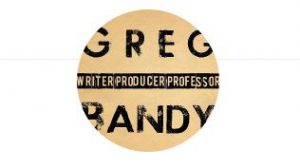 The Kelly Barnes Dam broke loose and Greg Bandy's life shook. The whelming flood took 39 lives on the morning of Nov. 6, 1977. As most people would after witnessing such a horrific event, Bandy asked the question "Why am I still alive?"
The scene sounds like a movie. And maybe one day it will be. Professor Greg Bandy specializes in teaching multimedia. He joined the Grove City College faculty this fall, previously working at Asbury University, where he received his undergrad in Secondary Education.
While at Asbury, he co-founded the Highbridge Film Festival in 2005 with Jeff Day. They were both professors in the Media Communications department at the college.
Before Bandy found his passion of filmmaking and screenwriting, he practiced journalism on a smaller scale. While writing a local newspaper, he developed a skill set which can be beneficial in business, non-profits, education, research and many other fields. "At the heart of solid creation is journalism skills," Bandy said. But journalism is not bound simply to newspapers. Instead, journalism includes design, writing, production and multimedia. "Journalism today is content creation," Bandy said.
"It starts with knowing how to write a story," Bandy said. Therefore, he teaches his classes building up from the basics. First, his students will learn how to write a story. They may acquire six or so new skills. Then the next class they take they will add six more skills. The progression continues until students are fluent in the language of multimedia.
"We are not swimming in content, we are drowning, but liberal arts education is the key to that," Bandy said. Learning about science, math, writing and language all aid in writing good stories. Though science may be difficult to fully grasp, it is an avenue for new writing. It is a new network for content creation. The liberal arts education at Grove City is one reason Bandy accepted a position here.
He currently teaches Journalism, Video Production, and Documentary Film. "The school has invested nicely in the production tools in the TLC," Bandy said. These tools assist students in creating their own documentary films by the end of the semester. "Production is different," he said. "It includes technology, people, art, writing, problem-solving, and creative, narrative production."
He looks forward to building upon the Communication and Visual Arts department and driving it in a new direction. He hopes to create an intersession course in which students produce a film from screenwriting to the finished cut. Bandy loves story-telling and hopes his Rhodesian Ridgeback dog will join him in Grove City soon.
Check out Bandy's Instagram at profbandy. He also has his films on Vimeo of his first and most well-known films is on C.S. Lewis. Find the film and others here: https://vimeo.com/16791969