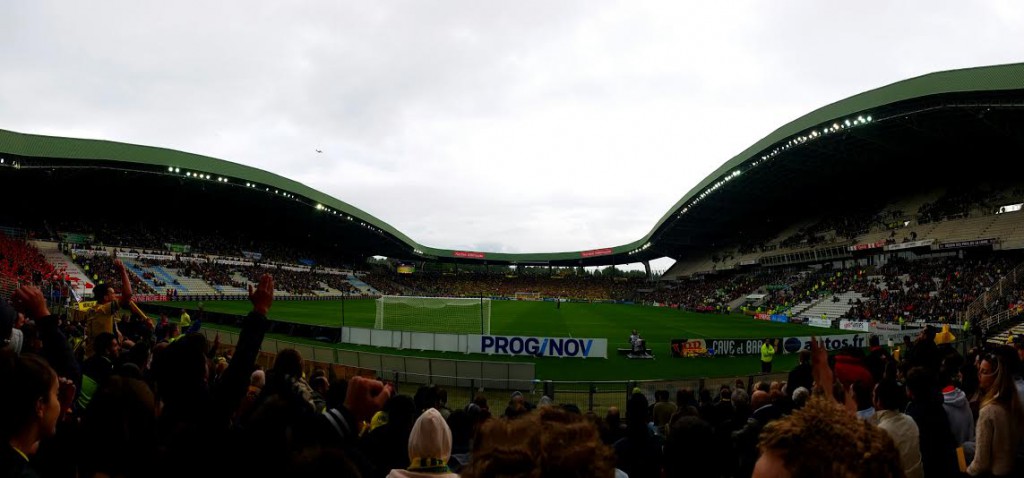 In GCC's ESC Program, students are not only tested on France's incredible history, but also provided the opportunity to be immersed in the culture's recreation. Fútbol, France's national sport, is the country's most popular pastime, which I was able to experience twice at the Stade de la Beaujoire. Located 30 minutes by public transportation, the stadium provided us with an ambience that reflected France's true passion and sense of culture.
While in Nantes, I experienced my very first European Football Match. In order to show my game day pride for FC Nantes, I purchased a yellow and green jersey. The match took place at Stade de la Beaujoire, located just outside the downtown city of Nantes. Between the waving of yellow and green towels to the singing of the team's anthem, Allez Nantais, I felt totally immersed in the competitive side of the French culture.
Nantes faced Reims in a long and tough match, with the first goal being scored in the second half. Unfortunately, Nantes, after receiving two yellow cards as well as two evictions, lost to Reims 0 to 2. After the stunning victory of Reims, the fans of Reims acted out of complete insanity, setting off red flares and running towards the field. Although Nantes lost, I truly enjoyed experiencing such a thrilling event where I felt as though I was a true citizen of France, specifically the region of Nantes. It was a communal experience I will never forget.