When you eat, sleep, work, and spend most of your time in one place, it becomes like home to you. Whether it's being able to walk around in your bare feet, or decorating a space that's all yours, we all have different ways to make a place "home" to us. Living with 3,000 other college aged people is such a crazy life, but we all share one place in common that becomes our "home" for 3-4 years. I spent the past few weeks asking people, "What makes Grove City College home to you?" and got so many great responses and stories. If you're wondering what it would be like to call Grove City College home, allow these students to explain their versions of "home" within our campus.
Junior – Abby Hassinger
"What makes GCC home for me is having a sense of family on campus. Making plans, spending quality time with people and feeling connected to life on campus helps GCC to become home. Decorating my room and putting my own stamp on it helps too."
Senior – Philip Dudt
"I have lived in Grove City for about 13 years now. For the entire time that my family has lived here my dad has been a professor at Grove City College. I am very appreciative that I can be immersed in a place where Christians can be open about their faith and their worldview so that 'iron sharpens irons' so to speak."
 Senior – Bradley Warmhold
"For me, the professors, faculty, and students who show a genuine concern for my well-being and a desire to see me succeed makes me feel right at home."
Senior – Kyle Martin
"The awesome people that I have gotten to know and the new people that I continue to meet makes Grove City feel like home to me."
Around this time of the year, another thing that students love about our campus is the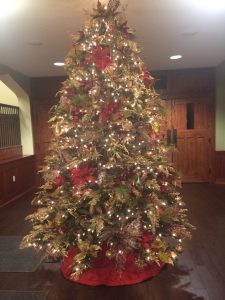 Christmas decorations that are just about everywhere. Not only are their lights on the pine trees and wreaths outside, but there are over 7 Christmas trees in different buildings on campus – including the dining halls. When there are decorations, lights, and fire's running in different buildings on campus, everything feels more like home. It makes you want to curl up with hot chocolate and actually enjoy studying. The effort that student leadership and staff exude to put up all these decorations is something that you definitely do not get on any other college campus, and is so unique to the "Grover" community.
            As for me, Grove City became home when I realized I was surrounded by amazing Christian people who were invested in me and helped me grow in my faith without feeling judged. Also making a dorm room a homey space helps as well, but overall Grove City College is a place we've come to know and love, and have been able to proudly call it our home.