Just like every college student, every 18-year-old hates the question: "So, what do you want to do with your life?" Well, I was the same way. As a 17-year-old senior in high school, I really didn't know what I wanted to do or how I was going to get there once I decided what I wanted to do. I had some plans, but those plans changed; changed like the days from one to the next. And it isn't until one hot summer Wednesday afternoon that my decision would know where I was meant to be – Grove City College.
Like any typical high schooler thinking they knew what they wanted, I was the same way. All throughout high school right up until my Junior year, I had my heart set on attending Valley Forge Christian College (now The University of Valley Forge) to major in Music Performance. However, once I toured and saw how far away it was from home (six hours – located close to Philadelphia), and when I realized that Music Performance wasn't any sort of "career" goal, my gears quickly shifted away from that.
Once I had no game plan, my mom stepped in to help me (thank goodness!). She suggested that I look into majoring in Dance at Point Park University. I've danced for about 19 years, so I knew that it was something I loved, and maybe that would be the path to take! The summer of my junior year of high school, my parents enrolled me at the Pittsburgh Ballet Theatre. However, after a few classes, I realized that maybe that route wasn't for me either. As much as I loved dance, the environment that I was in stripped everything that I loved about dance away. It was more about the competition and less about celebrating and enjoying dance for the art that it is. In other words, it just wasn't for me.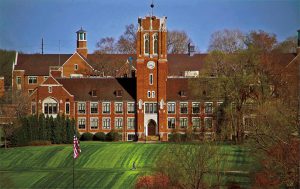 At a loss for what to do about me seemingly having no game plan to move forward from high school, I began to ask God where he wanted me to do with my life. After all, He's the one with all the answers, right? I didn't really know where to look at this point, until I heard of some people in my class looking into Grove City College. To be quite honest with you, I had no clue that Grove City College existed, which is why I proceeded to ask "why do you want to attend college at the outlets?" Silly me. Well, one Wednesday afternoon, Grove City College was about to become a lot more to me than just some "outlets" – and little did I know that it would soon become my home for the next four years.
As I toured Grove City College for the very first time, I felt a peace and a comfort that this was to be my place of study for the next few years. Upon the conclusion of that tour, both of my parents would also echo that same feeling. I didn't know what I was looking for until I found Grove City College, and it all came into place on that day.
I took a leap of faith and applied only to Grove City College, and I ended up getting accepted. I took that acceptance as a clear sign that this is where God wanted me, and I'm so blessed to have been able to attend such a great college.
I've been richly blessed throughout my time here at Grove City College. I've taken upon a variety of leadership roles, administrative positions, and committees in my time here. I've met some amazing people and have built spectacular and life-long relationships that have brought true blessing in my life.
So, I encourage you, no matter who you are or where you are, I encourage you and charge you to seek the Lord in everything that you do. I really wasn't kidding when I said that He had all the answers – all you have to do is ask. Luke 11:9 says: "Ask and it will be given to you, seek and you will find; knock and the door will be opened to you." If you look at the first letter of each of those verbs, it spells a familiar word to us all, and what God wants us to do – ask him. That's the only way we'll hear. Seek first His kingdom, and all blessing will be yours.