Let's be honest, when we think of a college dorm I'm pretty sure most people automatically envision two things: white cinderblock walls and bright fluorescent lights. While that assumption tends to be a rather accurate description of your average college dorm, don't deceive yourself into thinking that there is no possible way to brighten up the oftentimes dull space (not to mention the fact that the dorms here at Grove City College really have a certain charm about them). Personally, I like to think of a college dorm as a blank canvas, seeing as you have the perfect opportunity to make the most of the small space. Be creative and think outside of the box! Just because you may not have an excessive amount of space doesn't mean you can't make your dorm room both comfortable and practical.
This weekend, I was able to interview one of my dear friends, Rachel Riviere, a junior Communications major living here on campus. She graciously let me photograph her room, and answered a few of my questions regarding how she makes the most of her college dorm. Rachel's dorm is a perfect example of how even the littlest things can make the biggest differences in a room's atmosphere.
So here are just a few Q&A's on how Rachel turned her dorm room into one of her favorite places on campus:
What is your signature style and how did you incorporate it into your dorm room?
"I love bright, simple spaces with lots of natural light. My decorating style is minimalistic, yet creative, with white walls, twinkly lights, mixed woods and metals, muted colors and patterns, and as many plants as I can keep alive!"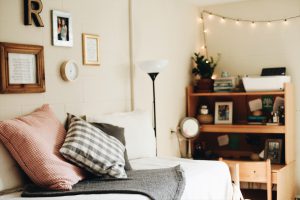 What is one of your favorite pieces in your dorm room and why?
"My favorite pieces in my room are my floor lamp and twinkly lights, hands down! They make SUCH a difference. I absolutely love natural light, but when the sun goes down, my lamp comes on! I have not turned the fluorescent lights on once this year. The soft yellow light is just so welcoming and creates such a relaxing atmosphere. The lights are really what transform the space – they're a game changer! Before I go to bed each night, I turn off my bigger lamp and just leave the twinkly lights on while I read my Bible. It's become one of my favorite parts of the day!"
Was it hard to decorate your dorm room? If so, how did you overcome the challenge?
"I'm a junior, and every year of dorm decorating has brought different challenges. It can be hard to make a cinderblock room with bright fluorescent lights and wooden furniture feel like a home, but it can be done! I did my best to transform the bare template into a welcoming and relaxing space, and by adding personal touches such as twinkly lights, stacks of my favorite books, and a gallery wall, I was able to create a room that I look forward to returning to each day!" 
How important is it to have a dorm room that you're comfortable in?
"For me, feeling comfortable in my dorm room is absolutely essential. It's where I spend most of my time, where I work, and where I create, so it's important for me to have this organized and simple space that inspires me to be productive each day."
Why did you style your dorm the way you did?
"Organization has always been so important to me. If my room is a cluttered mess, I will never get any work done! I'm an artist and have my own small business, and I don't know what I would do if my room wasn't set up in a practical and functional manner. I also think it's important for a dorm room to be welcoming to others, and I want my friends to know that they are always welcome to spend as much time in my room as they want! I want it to be a relaxing space."
Do you have any suggestions for incoming freshman who have no idea what to do with their dorm?
"It's so important to think about the shape of your space when you're arranging your room for the first time. In a college dorm room, there isn't much space to begin with, so I always try to keep the furniture around the perimeter of the room. That way, you can take advantage of the open space in the middle, and it will make your room look bigger! My best advice is just to own your room – make it into a space that you love, and others will be drawn to it! Oh, and make sure to pick up a string of twinkly lights – I promise you won't regret it!"
Overall, having a room that you're comfortable in is more important than you think. So again, don't be afraid to explore various options on how to arrange furniture, or what lighting sources to use; there are more options on how to design your dorm than you would assume! Above all else, don't lose heart! After all, the white walls really aren't all that bad, and maybe, with a few strands of twinkle lights, a plant or two, and a colorful bedspread that describes you, your dorm will become your favorite place on campus too!
Also, if you are in need of further inspiration, feel free to check out my Pinterest board dedicated to dorm ideas here //
Best of luck! – Kirsten