How can I, as an engineering student, further the work of Christian missions? This is a question I've been asking for a while. Last week gave me part of the answer.
Spring break began after classes on Friday, March 3, and since I live close to home I was able to visit with my family that evening and all day Saturday. On Sunday, I drove back to Grove City to meet two other students and to leave for Elkhart, Ind., home of SonSet Solutions, where we served for the remainder of the break.
SonSet has been helping ministries start Christian radio stations for years, and has developed an affordable solar-powered radio (called a "SonSet") which can be programmed to tune to local Christian stations. These are used all over the world and are being actively developed (the team is working on the next generation model now). However, their partner ministries increasingly have needs beyond radio. For instance, wells installed in Africa need to be serviced if they stop working, but sometimes ministries cannot easily access the wells (e.g., no roads, guerrilla groups, etc.). So SonSet created a water monitoring system that sends data via satellite.
When we arrived in Elkhart, we met our host families and the next day at work met all of the other students who were also spending their break at SonSet. There were 10 in total: three from Grove City, six from Cedarville, and one from Northwestern. SonSet would be hosting other students in following weeks.
Two Grove City students were working on a power protection unit that shuts off electricity if the power input is dirty (e.g., voltage spikes). Logan MacKenzie '17 worked on the electrical design and Joshua Kuipers '18 worked on the assembly.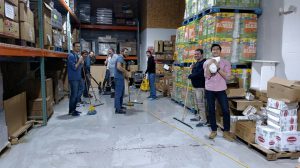 In addition to our project work with our mentors, we had a few events throughout the week, like our service project at Faith Mission where we served dinner to walk-in's and cleaned some warehouse floors.
My project was to make a touchscreen device that reads debug messages transmitted over I2C. The main features I implemented were:
Different display states/screens
Touch buttons to transition between states
A view with a scrolling list of the most recent messages
A view with the most recent debug information displayed visually (e.g., gauges for water monitor information)
I recorded a short video on Friday to show the basic functionality. The Arduino is sending messages to the system over I2C with fake water monitor data:
What was exciting for me was to realize how much I have learned from Grove City College. I was drawing largely on my experience from classes like Embedded Systems with Dr. Walker. Of course, basic math was helpful when computing the corner points for the triangles on the gauges. Engineering is so much fun, and it was exciting to do a project with a very practical application for missions!