Ashley Winters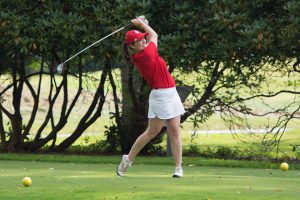 Class of 2018
Biology Major
Molly Arendt
Class of 2019
Marketing Management Major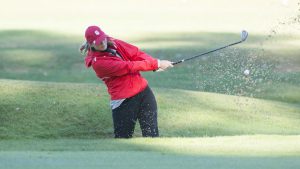 What has been your favorite golf team memory?
Ashley: We pranked one kid on the team, we went out to winter the night of PACs (Presidential Athletics Conference), we sang happy birthday to him and he didn't know that we knew his real name was Nicholas. Surprise!
Molly: Last PAC's we went to see the guys and all the girls just sat on the hill facing down watching the guys and hung out.
What is unique about GCC golf?
Molly: The girls team is really close, very fun and energetic!
Ash: It's like a family thing, we get dinner together and we kinda are like each others sisters, we want each other to do well.
What should a perspective golfer know?
Molly: They should really meet with the team and have dinner with us. It's a lot of fun, its probably the most fun sport on campus.
Ashley: You think it is going to be so much more intense, and its really not that bad, you don't have a set practice and you get to go out when it works with your schedule, very flexible.
How was the program different from what you thought it would be coming in as a prospective athlete?
Molly: I didn't know we had a golf team. I thought it was going to be more intense.
Ashley: I thought it was going to be super intense and competitive, yes it is competitive and but it is very laid back and a ton of fun.
What was your golfing experience like over the past years and how did golfing affect your collegiate experience?
Ashley: The people you wouldn't have met many people on the team, and now they are my friends forever. You get a bonding experience with people you'd never have a relationship with.
Molly: If I wasn't here I'd be studying all the time, it is stress relief.
What would you say to an athlete on the fence about golfing at Grove City?
Ashley: If you are on the fence at least meet us and try it. Give it one or two practices and it's just a fun time.
Molly: It is basically like a free country club membership and that's an experience I would never have.