In order to have a successful collegiate newspaper, there are countless individuals working behind the scenes to create content, manage the distribution, etc.
I had the chance to talk to one of the members of the Collegian's staff who holds in a unique position within this campus organization. Jesse Peterson is a (now) December graduate who majored in communications during his time here. He held the role of "Business Manager" within this organization.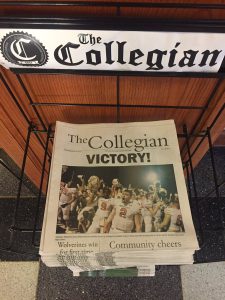 What kinds of tasks did this position entail for you?
"I was involved in the acquisition of advertisements for the Collegian and managed some of the financial duties that the Collegian dealt with. In addition, I was the person responsible for getting the weekly paper and then distributing it throughout the various campus locations."
Can you talk more about the distribution process? I heard it was a more unique experience!
"Yes, it's funny you should ask that! When we get the newspaper, it is printed up in Meadville, towards Allegheny College. Every Friday morning I get up and leave campus around 4 a.m. to drive up to Allegheny and collect the printed papers, put them in my car, and come back to campus. I am responsible for making sure that the newspapers are on the stands by the time most buildings open (so around 7:30 a.m. – ish). It's sometimes a tiring thing to drive an hour there and back with the newspapers, but I've gained a lot of good experience from it."
How has this job contributed to your experience at Grove City?
"I would say that I learned quite a bit of discipline having to get up so early on a Friday morning. The advertising aspect of the position engaged me in business to business conversations, and that skill is valuable when it comes to real world experiences. At Grove City, I've connected with other members of the writing staff, as well as numerous professors and individuals who influence the writings and creation process. Lastly, I've been fortunate to have some of my friends ride along with me when I get the paper, so there have been great relationships formed and improved through having this position. I'm very grateful for the opportunity, and know that while it is a bit of work, the lessons learned and experience are worth it!"
---
A big thanks to Jesse Peterson for speaking to me about his position, and a shout out to the entire Collegian staff who works tirelessly to get the paper out every week! Thank you for your hard work!