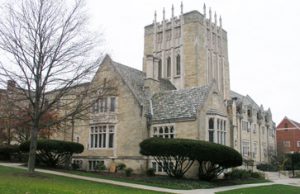 In Dr. Powell's advertising class, students were given the unique opportunity to research the College and create their own unique marketing strategies towards prospective students. Their task: to increase the number of applications submitted to Grove City by using an integrated marketing strategy that they themselves create. There were so many unique ideas presented!
Assigned throughout the majority of the semester, each class (there were two separate ones) was divided into teams of five persons, each given this same task. Dr. Powell advised these teams to begin talking to the admissions office, the marketing research class, and students on campus to advise them on particular marketing ideas and how they would resonate with their target audiences.
As data collection continued, the creative process intensified. Teams were given the task to create a sample print advertisement, a radio advertisement script, as well as a sales promotion give away, in addition to creating substantial PR. This task seemed stark, but all teams rose to the occasion and presented to Dr. Powell and students with creative, intuitive ideas to reach the demographic.
Ideas ranged anywhere from Virtual Reality Headsets to a Twitter promotion offering free tuition for a certain amount of likes. In one class, a particular team designed the theme "Rooted Deep," and based their campaign around this idea. Their print ad reflected that idea with a tree showing immense roots, and their radio ad emulated that idea. Lastly, teams came up with a promotional video to be shown on the website that captures the essence of their big idea.
Each team presented thrice over the course of the semester, with each successive presentation becoming more and more improved with peer evaluation and teacher advising. Finally, the teams presented their IMC plans in the form of a eight- to 10-page report that laid out their vision for their advertising campaign, and subsequent examples.
Ideally, some of these ideas could get passed along to the admissions office and be implemented into the marketing and presentation of Grove City College. Regardless, and speaking as a student in this particular class, the concepts learned and applied in this project will be invaluable further down the road after graduation. The focus on creativity within a big idea is a crucial part of the marketing and business world, and many students as a result of this project will be impacted and better prepared for their future careers.