Lindsay Hutton
Class of 2018
Biology Major, Spanish Minor
What has been your favorite soccer team memory?
The bus rides that we take, we've gotten to travel to Kentucky to Massachusetts to Texas. We spend a lot of time not on the field  but in travel. It goes to show that our relationships carry out on all aspects. We were going to Thomas More which is a six hour bus ride and the sound system was broken. We spent about an hour configuring tape job to get a movie to work so we could watch a High School Musical marathon.
What would you say is unique about Grove City College's Women's Soccer team?
The main difference is that we play for an audience of one. We play to bring glory to God. I've never thought of athletics as a place of worship, but it is. That's the main focus, and our team is growing our relationship with Christ through how we play.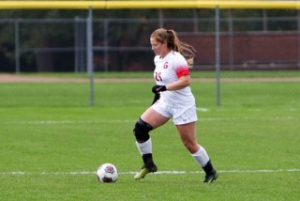 What is something a prospective soccer player should know?
It will change your life. After freshman year, I debated leaving the school, but I stayed because I couldn't think about leaving the team. Just because of the relationship and the impact they had on my life even just after one season. And it was a great decision because I've had some of the best four years being a part of this team.
How was the women's soccer program different from what you thought it would be coming in as a prospective athlete?
It was different from any team I've been on, from day one everyone was trying to meet you and get to know not just your name, but your story and try to start to build a relationship with you. It was a definitely a super supportive and encouraging environment, it wasn't just to start or have an important part on the team.
What has your soccer experience been like over the past four years and how did soccer affect your collegiate experience?
For me, it has given me the majority of my best friends, not to say that we don't have other friends in sororities. But they really do become your best friends, even in the off seasons when you don't get to see them everyday. Physically, we've been looking for the best for each player. We all have our own role on the team and your roles on the team change. Freshman year was definitely hard to transition, coach is very lenient in putting academics first, and the team is super willing to help you, and the teachers are very understanding when we need to miss class.
What would you tell a prospective soccer player that is debating playing soccer at Grove City College?
I would say do it! I was on the fence, I wasn't sure I'd play college soccer. I decided last minute to try out for the team and it was great. There's been people who didn't make it their first year but come back because of what close a relationship we've had … and they want to be a part of that.