Molly Gallant
Class of 2017
Mechanical Engineering Major
Campus Involvement:
Treasurer ODK
Orientation Board
Co-Captain Swim Team
All-Campus Sing
Swim Team Bible Study Leader
FCA
Ta/ Tutor Physics
ICO Rhode Island
Team Leader Senior Design Team
Water Polo
Where are you at now and what are you doing?
I am living in Phoenix, AZ and I am teaching high school physics in a charter school network that adheres to a classical liberal arts curriculum. I also doing some swim coaching for their high school and middle school teams.
How did you see Grove City College help you to the career you are in now?
I feel like Grove City gave me a lot of opportunities to lead groups and communities on campus. I think I got a lot of practice just leading groups of people like bible studies, the swim team, or a senior design team and that really helped me learn how to lead a classroom. TAing and tutoring even. I've had lot of opportunities to practice and I think that's really cool. I had to seek out these opportunities, but they were definitely there.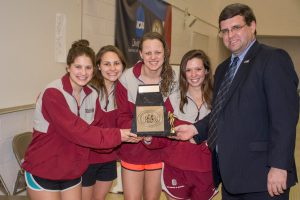 Also, I had some really great professors. Dr. Edwards and Dr. Harvey recommended this network I'm teaching at right now. While I love engineering and physics (what I'm teaching), I also love the classical teaching methods that I obtained from the Humanities classes. Dr. Edwards helped me combine my love for physics and my love for education.
The biggest push would be because I think that I had teachers that were willing to push me to do things differently than I thought they were. In my humanities classes, I was challenged to think about things differently. I had teachers willing to tell me I was wrong and forced me to think of things differently. It wasn't atmosphere where I could be willing to fail but be supported in my academics and I strive to continue that atmospheres in my classes now. I'll say stuff to my classes that professors said to me in my classes, which is cool.