Who's Hangry? During the month of September, Grove City College hosted a variety of different food trucks on campus, and one of those trucks featured Who's Hangry, Extreme Mountain Pies Food Truck. Even as a busy college student, I made sure I had an extra 10 minutes to stop by the food truck because the food was fantastic. It may not surprise you, but the line was pretty long. This gave me time to decide what I wanted to order from the menu. I mean, check out this menu, it all sounded delicious:
Mountain Pies

Pepperoni Pizza (#1 favorite, according to the workers)
Turkey Rueben
President McNulty's Irish Stew
3 Cheese Grilled Cheese and Bacon
Buffalo Chicken Mac & Cheese

Mountain Chips (loaded with bacon or "naked")
The Big Decision
Finally, my friends and I were ready to order and I opted for President McNulty's Irish Stew, while my two friends both got the Pepperoni Pizza. Before getting this fluffy, warm mountain pie, I have never had traditional Irish Stew, but I know exactly what I am telling my mother to cook me when I go home for Thanksgiving Break, it was that good! Of course, my friends both loved the Pepperoni Pizza Mountain Pie since it is the number-one seller. Char-Leigh Bates even exclaimed, "I did not know what a mountain pie was before today, now I think I need to travel to Mercer where Who's Hangry is located to buy more!"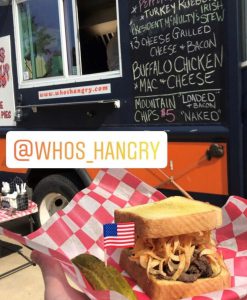 Food Truck Friday 
The majority of students around Grove City College have loved all the food trucks, especially Romeo's BBQ & Asian Food and Chick-fil-A. The Chick-fil-A food truck was a huge hit and they sold out of sandwiches within an hour! Below is a photo from a student who enjoyed the first food truck, Wieners Gone Wild.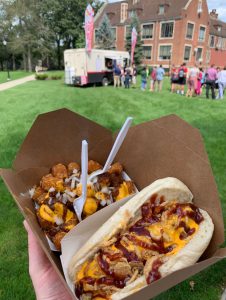 So, if you are a prospective student looking to expand your food palate, the new Food Truck Friday is the perfect opportunity to do just that.