What is ICO Philadelphia?
ICO (Inner-City Outreach) Philadelphia is a short-term missions trip to the city of Philadelphia over the first half of Spring Break. Partnering with The Philadelphia Project (TPP), the student group works alongside those working and volunteering with TPP in three different ministries.
What are the different ministries the student work with?
The mercy ministries focus on going out into the parts of the city with a heavy population of homeless individuals handing out food and supplies, as well as taking time to pray and just talk with some of these people.
TPP has many different work sites in the area outside of Philadelphia, renovating the homes of those who sorely need it, but cannot afford it. The students go and work alongside trained professionals, doing projects ranging anywhere from painting to tearing down walls; the students have the opportunity to serve in a more hands on manner, making direct connections in the community.
Another ministry has a few different areas the students can go, one of these is the Whosoever Gospel Mission. The Mission on the surface is an establishment similar to the Salvation Army, complete with a thrift store and locations to donate goods. However, looking deeper, there is an amazing ministry happening just above the store. The Mission offers a place for recovering male addicts to land, recuperate and go back out into the world with a renewed mindset and a more stable (faith based) foundation. In this ministry, the students get to hear the incredible stories of some of these men. They will also get the chance to work alongside them in the sorting section of the thrift store.
What has ICO Philadelphia shown its participants?
Based on what past participants (and personal experience) have taught me, the strongest thing this trip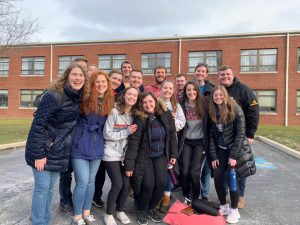 has brought its members is community. The community forged on this mission lasts far longer the the constraints of the trip itself. The relationships built, faiths strengthened and wisdom's earned are those which cannot be broken and will last for years to come. Trips like these bring people together for a common goal that cannot be accomplished in such a short amount of time, but every bit (regardless of length) help tremendously. Working in the kingdom alongside other like-minded individuals, for the greater good, is truly something to marvel upon.