A liberal arts education at Grove City College allows you to explore your interests with both breadth and depth. In this series, you will meet GCC students who are discovering their passions, pursuing their interests, and customizing their education as they pursue their desired careers.
Coming into college, Abby Genzink ('16) knew that she wanted to pursue a career in international development. Her passion for faith and relationships led her to become interested in community and international development.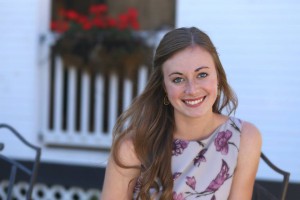 Specifically, Abby's passion for international development grew out of her heart for restoring human dignity and respect.
"I love watching people be dignified and watching people be respected and there are so many places around the world where that is not happening," she explains.
Abby finds joy in connecting people with others who are unlike them and she describes this process as building bridges.
"I'm so passionate about development and bringing dignity to people, especially in regards to providing for themselves and their families, and along with that, teaching people how we can partner with people who are in poverty in ways that we aren't, because we also have issues that they can teach us," she explains.
As she considered her interests and options, Abby decided to pursue a double major in English and Communication Studies in order to gain an interdisciplinary approach to international development.
"I've always loved literature, but I also loved how literature could help me to understand culture in a different way," she says.
In addition to learning in her English classes, Abby's communication classes have given her the opportunity to learn more about international development through various projects.
"For my Research Methods project, I did a study on how conflict affects poverty. I feel like I learned so much from that. I feel like I've gotten, in my own way, a focus in international development through my comm major. Communication has given me the skills but it has also given me freedom to learn more about development through a communication lens," she says.
Several experiences outside of class have also encouraged Abby's interest in community and international development. During her sophomore year, Abby had a service learning internship with Olde Town Grove City, where she learned more about issues in community development. This past summer, Abby was able to experience international development through a service trip to Armenia with the Red Box Missions program at GCC.
In Armenia, Abby partnered with the United Methodist Committee on Relief, where she visited several of their programs and partnerships. She visited many places such as a farm, a refugee center, and a school, and Abby wrote stories about each for the organization's website.
For the second half of her trip, Abby worked on a variety of projects for a small nonprofit in the city of Ejmiatsin which teaches classes for Armenian children about government, justice, their rights as citizens, and practical skills for trade. Abby explains that teaching children is an important aspect of development. "Part of what they say about development is that you need to teach children from the very start so that they are equipped to have minds that are creative and problem solve and understand that they deserve to be respected," she says.
As a result of her wide variety of learning experiences at Grove City College, Abby has found a niche for herself in communications within the field of international development.
"The more that I've learned about myself, the more I've learned that I want to do communications within that field….in international development, you need doctors, you need economists, and you need people doing communications and I feel like that is where I fit in," she says.
Reflecting on her experiences so far, Abby recognizes the importance of taking initiative when it comes to pursuing your passions.
"If I had it in my head that I was looking for the opportunities, I always found them…My professors were really good about partnering with me and helping me find the things that would be geared toward what I wanted to do and would prepare me for my future."