What does it take to navigate your career path?
Valerie Perry ('07), a technical production specialist at National Geographic, knows that getting a job you love requires courage to pursue opportunities and willingness to learn from a variety of experiences.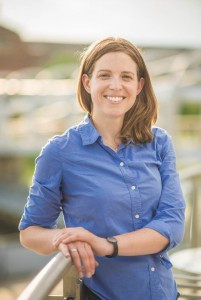 As a Grove City College student, Valerie was a double major in Communication Studies and Christian Thought (now called Biblical & Religious Studies). Her four years at Grove City College were influential in Valerie's faith and personal growth.
"I developed a strong work ethic during my time at Grove City," Valerie explains, "There is still a lot that I don't know (we'd need a longer article to list those), but I've found that I'm capable of learning anything if I'm willing to put in the work. Grove City also helped shape my identity. I left college knowing what I believed and why—knowledge that has been a great comfort and counsel to me throughout several seasons."
Following graduation, Valerie worked for Silver Ring Thing, a program that hosts concert style events promoting sexual abstinence for teens. As a live event video director for the national tour, Valerie learned valuable skills that prepared her for her career in production.
Career paths can often take unexpected turns. After attending a career fair in Las Vegas, towards the end of the Silver Ring Thing tour, Valerie applied for a position at Royal Caribbean International. A few months later, Valerie transitioned from life on a tour bus to life on a cruise ship as a broadcast technician.
During her time at Royal Caribbean International, Valerie not only gained technical skills in video production, but also developed a stronger sense of her values and faith, which are central to her passion for video production and her positive attitude toward work.
Building upon her past experiences and willingness to learn, Valerie landed her current position with National Geographic. Through her career in production so far, Valerie has discovered that honing one's skills, being humble, and welcoming a variety of experiences is invaluable.
Her advice for students pursuing creative careers is simple: pursue any opportunity that develops your creativity.
"Sadly you can't teach creativity. I'd be the first to sign up for a class if it could be taught. It can't. But, I do think it can be absorbed. Hang out with people and work that inspires you. Spend time in nature or in museums or at the movies—whatever works for you. Spend time with people more talent and creative than you. They'll push you to be better. Creativity involves risk and often comes with a lot of failure and rejection, so learn how to be comfortable with those. If you choose a creative career, don't forget to have creative pursuits in your non-work life as well. That creativity is just for you— you don't have to worry about it being "wrong" or not meeting someone's expectations. It's just pure fun. The enjoyment you get from that creative process will help you get back up if you get knocked around from time to time. And recognize that even taking the risk is a victory. It's easier to sit on the sidelines (or the couch) than audition for a play, paint a picture, or write a poem. Just by doing you're winning," Valerie explains.
Recently, Valerie returned to her alma mater as a guest speaker for a series hosted by the Grove City College chapter of Lambda Pi Eta. During her presentation, she shared honest and thoughtful insight into the learning process involved in pursuing a creative career.
As Valerie spoke with GCC students about her experiences, she offered these words of wisdom:
"If you can learn to write well and speak well, the world is yours."
For Valerie Perry, these words of wisdom have truly opened up the world.
Learn more about the Department of Communication Studies & Visual Arts here.
Learn more about Valerie Perry's new book Sea More: Caribbean here.