This is the second part of a series highlighting some of my favorite neighborhoods of Pittsburgh. Pittsburgh is only 45 minutes away from Grove City, making it a great destination for a day trip. Be sure to check out the first post of this series which highlights Shadyside and Squirrel Hill on the east side of Pittsburgh. This post includes the Strip District and Market Square, two eclectic neighborhoods full of unique events and authentic restaurants.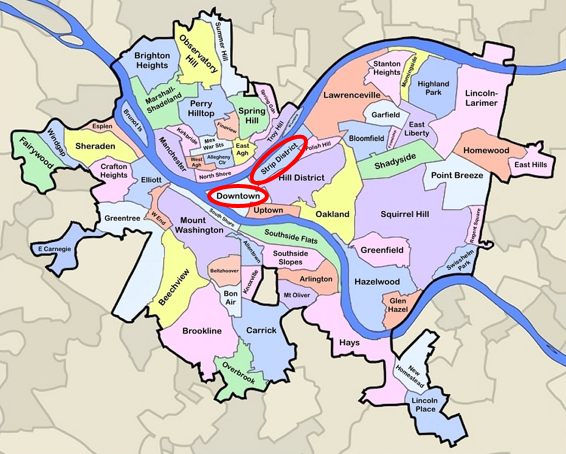 ---
STRIP DISTRICT
Pittsburgh's Strip District, which runs along the Allegheny River, was once the home of many mills and factories due to its convenient location for transportation of goods and materials. The thriving industry in the Strip District during the 19th century made it a mixing pot for immigrants from all over Europe and Asia. As wholesalers began to leave the area in the mid to late 20th century, immigrants revitalized the abandoned warehouses, turning them into ethnic restaurants, specialty markets and art studios. Today, the Strip District is a bustling, outdoor historic market place. With crowded streets full of food vendors offering authentic cuisine from all over the world – from fish markets to homemade potato pancakes to fresh mozzarella – as well as native Pittsburgher's speaking "Pittsburghese", the Strip District is a great location for students looking to expand their surroundings and indulge in delicious food. While you're there be sure to check out Pamela's Diner, where the Obama family sampled some world famous pancakes. If the line is too long, you can try the pancakes topped with ice cream at Pamela's rival, Deluca's.
---
MARKET SQUARE
Market Square is the hub of activity in downtown Pittsburgh, featuring an eclectic mix of old restaurants and new shops. The best part of Market Square, however, are the numerous events that occur year round. During the summer and fall months, Market Square hosts one of the best farmers markets in Western Pennsylvania, full of fresh fruit from local farms and Amish goods from just down the road. Market Square kicks off the Christmas season with Pittsburgh's annual light-up night, illuminating downtown Pittsburgh with Christmas lights. The Christmas festivities continue in Market Square with a Holiday Market, which is inspired by German Christkindlmarkts, bringing a bit of European tradition to downtown Pittsburgh. Additionally, throughout the winter, Market Square sets up an ice skating rink, where many Grove City students can be seen attempting to maintain their balance on narrow blades. For those with Irish blood in them, Market Square boasts one of the best St. Patty's Day parades. In addition to the celebratory seasonal events, Market Square is also the location of numerous food trucks, concerts and outdoor movie screenings. And while you are there, be sure to try Pittsburgh's famous delicacies – a sandwich topped with French fries – at the Primanti Brothers.
Note: All images from this post were taken from Google images.