During the Fall semester of 2015, a Grove City College student advertising group headed up an integrated marketing communications plan worth being highlighted for its quality of work.
Dr. Scott Powell, professor of business at Grove City, strives to bring out the absolute best in his students by challenging them to semester-long projects that involve hands-on experience. One of Dr. Powell's most notable courses is his Advertising class. The project in this class requires students to form groups and select an organization within the local area for which to develop an integrated marketing communications plan.
Group members Evan Broome, Nathan Chanski, Allison Blain, Stephen Betteridge and Sarah Williamson in the fall 2015 section of Powell's Advertising course chose to take on the local Emmett's Orchard as their organization of choice. Over the semester, these group members worked together in tandem with the Emmett's Orchard owners from the research phase to the presentation of the deliverables.
Below is shown the work these Advertising students produced throughout the semester in their best attempt to promote the local orchard.
Campaign Objectives:
To raise awareness for our target market—that being, college students and young families within the Grove City area.
Brand Personality Goal:
Emmett's Orchard is an outdoor getaway that celebrates fall, offers students a home away from home and promises the simple characteristic of authenticity.
The New Logo

---
Promotional Photography




---
The New Website
http://emmettsorchard.weebly.com/
---
Print Ad 1
Print Ad 2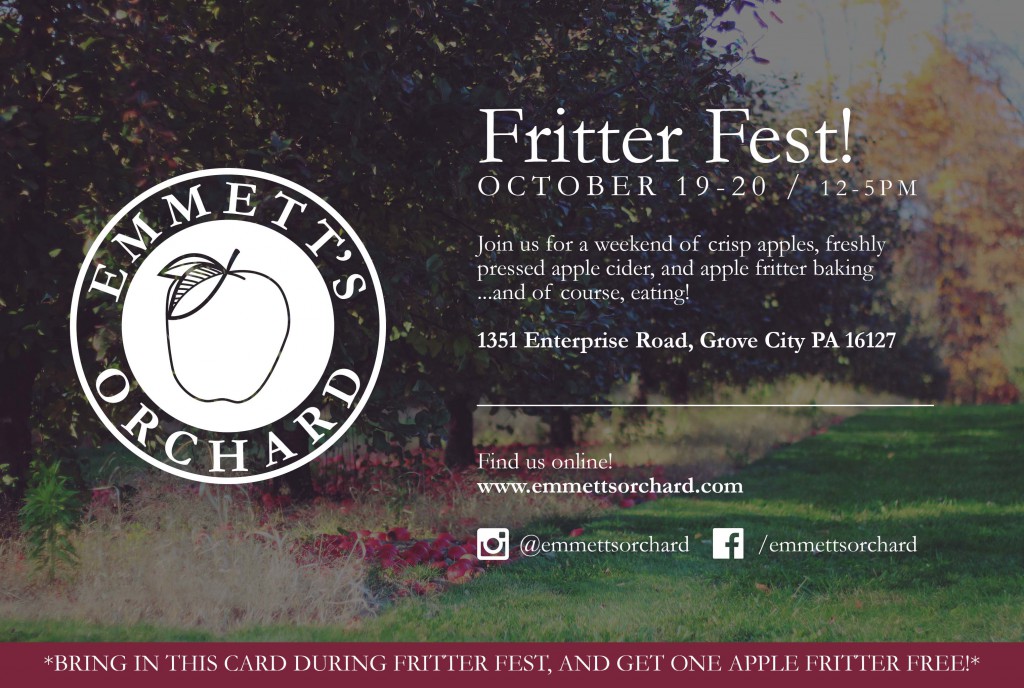 Video Ad
[youtube https://www.youtube.com/watch?v=mk2Z-VNdvXo]