Not sure if you're cut out for the corporate world after graduation? Me either, and that's okay! Grove City College prepares students to enter into a variety of fields following graduation. Some students will go to grad school to pursue medicine, while others land jobs teaching. Some students will land jobs at large marketing firms, while some accept positions at corporate banks. But others will take a less traditional route. Some will start their own business or turn their hobby into a career. In recent years the College has been working to develop its fine arts program in an effort to educate and train students interested in skills pertaining to painting, drawing, screen printing, graphic design, pottery and more. As someone who loves art, design, and the ability to create, I started asking myself how GCC could play a role in helping students to see how they could use their creative abilities following graduation.
In September of 2016 I began working closely with the chair of the Communication and Visual Arts Department, Dr. Jennifer Mobley, to plan a one-day event that would inspire, educate, and connect students hoping to pursue a career in creative communications. We called the event the 2017 Create Conference. Soon after the planning process began, Alexis Marnejon ('17) hopped on board to join our efforts in planning this event.
One amazing part of going to school on a small campus like Grove City is that students have the opportunity to work closely with their professors. While planning the Create Conference Alexis and I met weekly with Dr. Mobley  to update her on the planning process, brainstorm and seek her advice.
The Create Conference was held on March 18, 2017. We brought seven speakers to campus to host seminars, main stage talks, and workshops. Our speakers each own small business focused on some field within creative communications. These fields included clothing design, graphic design, photography, music production, cinematography, and painting. Topics covered throughout the day included social media use, how-to's, dreaming big, and being a Christian business owner. Our speakers were the following individuals: Tim & Brooke Mousetis (walk in love.), Andrew Williams (Neighborhood Film Co.), Cynthia Stanchak (mixed media artist), Taylor Courtney (Bring on the Bash), HB Mertz (wilderness photographer), and Megan Smalley (Scarlet and Gold).
The event started at 10 a.m. and seminars concluded at 6 p.m. Following the day-time events, we hosted an evening concert in the Student Union where student performers played and audience members enjoyed coffee, brownies, and cookies.
The Create Conference was a success. The speakers were fun and brought a lot of knowledge, wisdom and creativity to share with students. Throughout the day we had about 75 students attending events. The feedback was positive. An event like this has never been done on campus so  students found the opportunity to engage and learn about the creative field exciting.
Putting on an event like this was hard work but Alexis and I learned countless lessons. It took us about six months to plan the event, so you can bet we breathed a sigh of relief when we saw our hard work come to fruition on March 18. Although we worked closely with Dr. Mobley, Alexis and I handled a majority of the planning. We took care of emailing speakers to invite them to campus and to negotiate accommodations and day of details. In addition we took care of reaching out to various on-campus organizations to help us fund the event. We also connected with various departments and services on campus to help organize details for the day of the event. One of my favorite parts of planning the conference was meeting with a senior graphic design student to develop a promotional theme for the conference.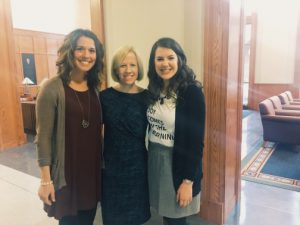 When you're at Grove City, dream big. There are numerous resources available on campus to help you accomplish your goals. Whether you want to carry out some form of research, plan an event, or complete a big project, connect with your advisor and professors to see how you can turn your plans and dreams into a reality.
My dream was to bring more attention to the creative communications. Use the college as a resource to do big things. The faculty will support you and push you to work hard and to execute your plans with excellence.