If you've got a sweet tooth, then you'll definitely need some help satisfying those cravings during your time at GCC. Whether it's a late night study snack, a finals week stress relief, or a spontaneous outing with friends, you'll never have trouble finding ways to satisfies even the most intense cravings. Here are 10 places to go if you need something sweet.
1. Katie's Korner: Katie's Korner has long been a favorite of Grove City College students. Located about 2.5 miles from campus, the small business offers an extensive list of homemade ice cream flavors along with generous portion sizes. Whatever you fancy, you'll find a flavor you can't wait to have again. My personal recommendation is dark chocolate peanut butter: Dark chocolate ice cream with thick swirls of creamy peanut butter.
2. Sweet Jeanie's: No car? No Problem. Located just a short walk from campus is Sweet Jeanie's. The ice cream shop has been open for only a few years, but has quickly become a local favorite. Offering a variety of flavors made in-house, the shop sells sundaes, cones, and milkshakes, as well as lunch and dinner foods that can be eaten at a booth, table, or the old fashioned soda fountain bar. Stop in and try my personal favorite, Giraffe Tracks: caramel ice cream with graham cracker swirls and chocolate chips.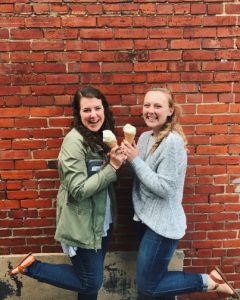 3. Rachel's Roadhouse: Not in the mood for ice cream? Go to Rachel's Roadhouse. The restaurant, with a diverse lunch and dinner menu, is located about 20 minutes from campus. Your mouth is sure to start watering at the sight of the dessert tray. From berry pie to carrot cake to cookie sundaes, it's impossible to go wrong. Don't you dare graduate from GCC without trying Rachel's famous peanut butter pie: Chilled creamy peanut butter filling, piled onto a chocolate crust and topped with whipped cream, chocolate drizzle and peanut butter cookie crumbs.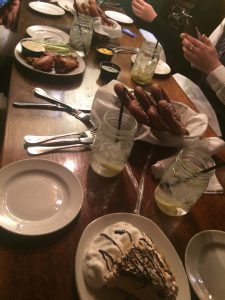 4. Elephant and Castle: Teamwork makes the dream work. You'll need some friends to tackle this dessert. Elephant Castle is a restaurant located right by the outlet mall. Their dessert menu is small but mighty. If you're looking to dream of chocolate for the next week, try their Big Ben Brownie (appropriately named): Large scoops of vanilla ice cream, drizzled with chocolate fudge and caramel sauce, sandwiched between two rich decadent brownies.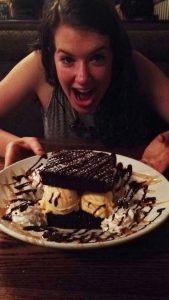 5. Student Union, GeDunk: Don't worry about leaving campus to get something sweet! The Student Union's GeDunk offers several crowd pleasers. For a few bucks you can get a stack of three large fluffy chocolate chip pancakes. These chocolate chip pancakes are known as one of the best deals on campus and have often accompanied late night study sessions. If you're not feeling pancakes, go for a made-to-order milkshake or grab a pint of Ben and Jerry's from the freezer!
6. McDonald's:  Need a taste of your childhood? Who doesn't love a McDonald's McFlurry? Up the street from the College you'll find America's favorite fast food restaurant, McDonald's. Their menu requires no explanation. If you have a hankering for something familiar, there's never a bad time to grab a warm apple pie or Oreo McFlurry.
7. Peace Love and Little Donuts: The unique chain made it's way to Grove City. Head to the outlets to find the doughnut "shack" and grab yourself some doughnuts! Specializing in mini cake donuts, the shop makes the treats on site. Every flavor has the same vanilla cake base, but the donuts vary by icing and topping.  From cookies and cream to fruity pebbles, it's hard to choose just one kind! Be adventurous and try the maple bacon doughnut: vanilla cake doughnut topped with maple icing and bacon bits.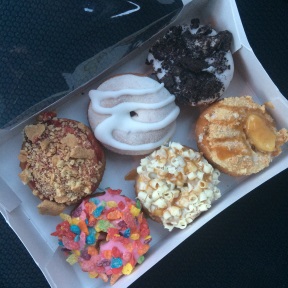 8. Craig's Country Comfort Bakery: If you'd rather have a more traditional doughnut experience take a ride out to the countryside and visit Craig's Country Kitchen. Located about 20 minutes from campus, is a little farmhouse with a quaint bakery that produces bread, dinner rolls, cakes, danishes, cookies, and best of all- donuts! Better than Krispy Kreme, these donuts are large and fluffy, and come glazed or iced with sprinkles or nuts. And you can't beat the price! Try a chocolate iced doughnut. You won't regret it!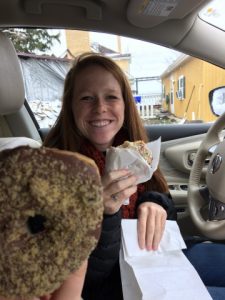 9. George J Howe Candy Company: Dating back to 1917, the George J Howe Candy Company, is a candy, nut, and coffee producer located along Main St. in Grove City, just down the street from the college. Find their coffee in the dining halls and their candy being sold at the GeDunk. You can also visit the candy factory and purchase products from their front store! Your inner child will melt when you see a spread of their candy. Try their chocolate covered pretzels for a sweet and salty combo or their peach rings for something tart! The chocolate raspberry coffee is a personal favorite.
10. Camelot's: The budget of a college student doesn't allow for extravagant spending. But don't worry. For just $1.35 you can purchase a warm, gooey cinnamon roll that is bigger than your face. Camelot Restaurant is a tiny diner located just seven miles from Grove City College. Grab some friends and devour a cinnamon roll smothered in melted icing for breakfast! Just be sure you make it back in time for your 8 a.m.