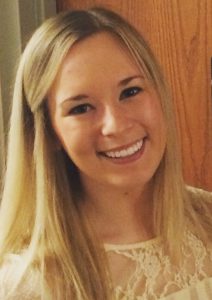 Junior Paige Foley might not fit the mold of your stereotypical engineer, but that's ok. She can engineer her own.
As one of 13 girls out of 65 total Mechanical Engineers in her class, Paige has experienced first-hand the interesting challenges of being a woman in a male-dominated field. I was fortunate enough to be able to sit down with her to discuss her experiences so far as a Mechanical Engineer major at Grove City College.
What is your major?
Mechanical Engineering with a Robotics minor. Robotics is a new minor that the college just added, and I'm really excited to be able to take those classes!
Did you have any experience or education about engineering before coming to college?
I took two engineering classes during my last two years of high school. One was a co-ed, basic engineering class with very few girls, and the other was called Women in Engineering. The school felt the need to offer a separate course for girls interested in engineering because of the different learning and project styles seen in girls in comparison to boys. They found that women tended to ask questions before starting a project, while boys asked questions after something went wrong. I always thought this was an interesting comparison.
What have been your favorite engineering classes at Grove City College?
I've taken a lot of great classes that I've enjoyed at GCC, but Design Manufacturing (MECE 208) and 3D Modeling (MECE 210) have been my favorite classes by far. Last summer, I had an internship where I was able to directly apply what I had learned from these two classes, which was very exciting. They taught me how to use the industry software for modeling and design.
Have there been any other classes that have greatly influenced you?
One of the classes that stuck with me that related to my major was a required class called Science, Faith and Technology (SSFT 212). It was taught by one of my engineering professors, and we discussed how faith and science can coexist. It was really beneficial to talk about the ethics behind science, and how we as Christian are called to learn to be good stewards of the Earth, which involves understanding and learning about how it works. It helped me in terms of my major to understand that my future profession is important to Christian and worldly society because I am utilizing my skill set for the glory of God.
What do people say/think when you tell them that you are a Mechanical Engineering major?
Sometimes when I say I'm an engineer, people usually seem surprised because they think that it doesn't seem to fit me, and question whether I'm qualified. I think that people react this way because engineering in general has a reputation for being very difficult, and there aren't a lot of girls that decide to pursue it as their career. I'm proud of my major and the hard work that I've put into it, so I don't mind talking about it to other people who have questions. I'm putting in the work now so that I can prove to everyone later that I have what it takes.
Given the minority of women to men in engineering, how would you describe your experiences with equality within your major?
Grove City had done a really great job at keeping the academics equal among genders. All the professors are great, and they are fair, helpful and qualified. Unfortunately, there is some social barriers that get in the way at times, but it never interferes with my education. And because girls are such a minority in the Engineering Department, we all have really bonded. We all have similar schedules and spend a lot of time together, studying and working on homework. Some of the girls have even created sorority-like letters that they wear to represent our small group of engineering women.
Have you had an internship? How has that enhanced your education?
This past summer, I was fortunate to have had an amazing internship experience at a railroad company called A. Stucki. As a mechanical engineering intern, I used 3D modeling software to make shafts, fit pieces, and model things like cast iron skillet. I was even able to reverse engineer using scanning arms and other tools and instruments in order to create certain pieces. I loved learning and applying what I've been learning in classes in a real world setting. What was really cool and encouraging was that I learned that the company that I interned for had just hired two GCC grads, and that the Vice President of Engineering was a GCC grad as well. It was great to see people outside of the college who knew that GCC comes with a great education. Even as a sophomore, I was prepared to apply what I learned in a real-world setting.
What advice would you like to share to someone interested in pursuing Engineering at Grove City College?
My advice to anyone looking to pursue Engineering at Grove City is to not be deterred from pursuing it because of the challenging classes and schedule, and the stereotype of the lack of a social life. People may feel like you may not be able to have a social life, but I can assure you it is possible. It all depends on how diligent you are with your time. You can be involved and have a social life. Also I would love for people to know that just because I'm an engineer, that doesn't mean that I want to build a car. Engineering is so much more broad and diverse than designing and building motors and vehicles. I have had a great experience with the Grove City College Engineering Department and encourage those interested to look into it, talk to professors and students, and even sit in on a class if possible.
Listed below are some Grove City College resources to help you learn more about the Mechanical Engineering Department:
http://www.gcc.edu/academics/SEM/mechanicalengineering/Pages/B.S.-in-Mechanical-Engineering-.aspx
http://www.gcc.edu/academics/SEM/Pages/Hopeman%20School%20of%20Science,%20Engineering%20and%20Mathematics.aspx
http://www.gcc.edu/academics/SEM/mechanicalengineering/Pages/Department%20of%20Mechanical%20Engineering.aspx