According the laws of economics, the higher the risk involved in an investment, the greater you can potentially get out of it… or at least that's how I understand it as a Communications major and English minor who's spent most of his time in the theatre over his four years at Grove City College.
However, according to the economics of Grove City Theatre, something I am well versed in, the Spring One Act Festival is not only the lowest time commitment, but also one of the most fun productions on campus.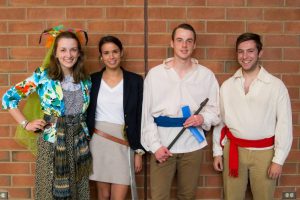 Every Spring semester, between four and five productions are put on, ranging from 10-25 minutes. These shows range from comedies to dramas, even some longer skits, but all are student directed. Even the festival and most of its logistics are coordinated by two students, who function as liaisons between the faculty, the directors, and the technicians.
I got my start in One Acts during the Spring of my Freshman year, not in directing or acting, but in tech. I helped assist the run crew move props and sets between shows. After that experience, I knew that I had to be involved more in the process. After that I acted in a play and then directed three.
For my final semester at Grove City, I decided I wanted to take a crack at acting again, and I'm excited to jump back into the fray.
The talent that comes out in One Acts is astounding. Due to the less demanding schedule in comparison to a main stage full length production, students who would normally shy away from theatre come out in droves. The fresh faces make for a fun, collaborative experience.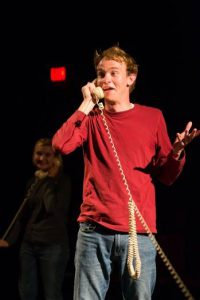 Not only do One Acts bring out the acting talent from across campus, but also encourage writers to present their original plays. Last spring we had two original plays go up in the same festival. It was a tremendous experience.
Perhaps you do theatre in high school, and you're worried you won't have time for theatre or perhaps that you won't be able to commit to the rigors involved in theatre that you weathered before college. Fear not. One Acts allow for you to still be involved and express your passion for theatre without overwhelming you.
Perhaps you're worried that you won't get cast because you're not a familiar face in the theatre department. Once again, you have nothing to worry about. In the upcoming festival, only six out of the 12 actors have acted in productions before. That's half! One allow for anyone who comes out to have a chance at theatre.
I've been so thankful for the fun times I've had through One Acts. So when you get here, come one out. They're worth your while.