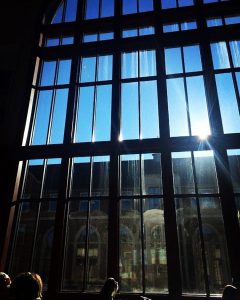 At the heart of the Grove City College campus is the Breen Student Union, a well-used and loved location where students come together. The Student Union is a popular place where students meet for meals, work on projects, and hang out with friends. There are large windows, lots of tables, a small cafeteria that offers MTO items and a meal plan option, and the College Bookstore. This is the perfect catchall location for students to connect and interact on campus.
One of the highlights of the Breen Student Union is the Gedunk. A small café that offers a meal plan option during certain hours as well as a made to order food menu, the Gedunk has increased over the years because of the increase of use by students. Often times, class schedules limit the times when you can go to the dining halls for breakfast, lunch, or dinner, so the Gedunk offers a great alternative to a sit-down meal. At the Gedunk, you can use a tray or a plastic bag to fill with food. With a "SAC" lunch, as they call it, you are allowed an entrée, chips, a dessert or fruit, and a drink to fulfill your meal credit for that meal. This is very popular option for students, so it can get a little crowded at times, especially when they are offering chicken tenders. However, the Gedunk employees are hard-working and efficient and do their best to accommodate every student! The Gedunk made to order food includes things like quesadillas, sandwiches, salads, milkshakes, smoothies and so much more. They even serve Starbucks coffee! The Gedunk is a wonderful and useful part of the Student Union that adds much convenience and fun to the space!
Another resource that the Breen Student Union offers is the mailroom. Each student has their own mailbox and the opportunity to receive mail and packages daily. The mailroom also sends out important papers, reminders and event invitations through the mail as a way for the college to communicate with its students. Students can even send outgoing mail and prepaid packages through the mailroom, as well as send mail to other students and faculty through the intercampus mail program.
The Grove City College Bookstore is also attached to the Student Union. Here, students can purchase textbooks through the school, which often saves time, money and stress than purchasing books through other companies or services. The Bookstore also sells various necessary items like school supplies, art and music materials, everyday items like batteries and first aid as well as gifts and other school merchandise, like Grove City sweatshirts and T-shirts. This is a very convenient place when you are in a pinch and need to grab something important for a class or activity. The Bookstore is ready and willing to help you accommodate your needs!
The Breen Student Union is a beautiful and resourceful place planned and furnished with students in mind. Be sure to get comfortable here during your time at Grove City College to take advantage of the great things that are available to students!