When I came to Grove City College, I did not expect to find an internship at a fashion boutique.
And yet there I was – a senior looking for experience to make myself employable – writing an application to be an intern for the JMK Fashion Show.
As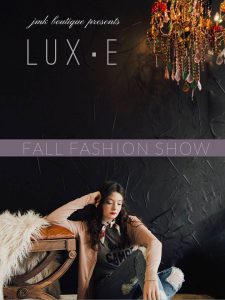 an intern, I had a number of basic responsibilities: event planning, marketing, public relations, photography, fashion, social media, and administrative work. I did everything from styling an outfit to taking photos for the professional Instagram to setting up a room for the final event.
It was an incredible experience.
The theme of the fashion show this year was LUXE. "Lux" means light and "luxe" means luxurious. These two words captured the essence of the clothing line.
The pieces in this line were strong and feminine and beautiful, exactly like the women wearing the styles. In order to capture this theme, the venue was decorated with a gorgeous chandelier and mirrors – illuminating the unique style of each piece.
Refreshments were provided at the event as well as an opportunity to purchase JMK clothing.
This internship happens almost every fall, and I would highly recommend applying. Below are a few pros and cons to consider:
Pros
This internship will give you relevant experience in event planning, marketing, public relations, community relations, fashion, administrative work, etc. You only have to commit for a short period of time but you get to do a lot. It also gives the opportunity to work with a fantastic team who knows what they are doing.
Cons
It is an unpaid internship. Also, the week of the fashion show is highly stressful which may be a major downside to some.
This internship is perfect for any student who is willing to work hard and has a creative eye. Personally, I learned a lot about the design aspect of event planning.
Essentially, event planning is not just about renting a venue and throwing together about an event; it is about designing each piece to create the desired effect. I also learned to jump in and help wherever I was needed, even if it did not necessarily fit in my job description.
---
JMK was started by Jon and Mary Kaup (JMK), young entrepreneurs and pharmacists at RX Xpress in Grove City, PA. Their passion for small town services and love for affordable fashion for all ages came to fruition when they decided to pursue the dream of a boutique we all know as JMK.
To learn more about JMK, visit their Facebook page here.