Grove City College is truly a great place to be to grow spiritually. There are many different options when it comes to worship, and Warriors would definitely be high on the list. Warriors begins at 9 p.m. in Harbison Chapel every Thursday.
Most worship events at the Grove will have some incentive for students to come, like chapel credits, but Warriors does not, which makes it special. Everyone who comes to Warriors wants to be there.  When you are in Warriors for the first time you will notice that just about everyone is singing and the chapel is echoing with the sound of worship.
Warriors recently had a partnered event with Stigma that was dedicated to suicide prevention. In this event, the Warriors crew sang and read Bible verses, which is what they do on a normal Thursday night – but in addition, at the start and near the end they invited two speakers to come up and talk about their experiences with depression, loss, and suicide. This was kept short but was truly an important message. The speakers were sure to get the point across that we are not alone. We have a great community of Christian men and women who are there for each other. More im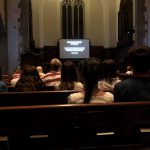 portantly, we know that we have a Father in heaven looking over us.
Stigma is solely found on Grove City College's campus, and they work to help anyone who has a mental illness. As a student at the Grove, it is really comforting to know that there are always people willing to help if someone is struggling. To learn more about Stigma, go to stigmagcc.wordpress.com.
"He himself bore our sins in his body on the tree, that we might die to sin and live to righteousness. By his wounds you have been healed." (1 Peter 2:24)