Orientation Board is well-known around the Grove City College campus as the hyper-excited upperclassmen in charge of making incoming freshmen feel at home the first week of college. One member of this group is junior Faith Rock, who enjoys sharing her love for music and God with freshmen students. When she is not helping with Orientation Board events, Faith is busy pursuing a degree in Marketing and a minor in Design. She is also graduating from Grove City College a year early to get a jump start in the "real" world. If you are interested in learning more about Orientation Board and in particular the Religious Committee, check out the interview below.
How did you get chosen to be on the Religious Committee?
For everyone in Orientation Board, there is an interview process where you go through interviews with all five committees. I actually spoke with the Religious Committee last and I really liked it, even though I was originally interested in the Publicity Committee. Also, I was thrilled to find out that I was chosen to be a part of this committee because they are involved with a number of cool events for the freshmen.
Who encouraged you to do Orientation Board?
Nobody directly influenced my decision, but during my freshman year, I was yearning to meet more people. So, I thought joining this organization would be a really good way to meet new friends. In fact, Orientation Board is a very involved group on campus and their energy was infectious.
What would you tell a student who is debating on joining Orientation Board?
You have been a part of Orientation Board for two years, what have you enjoyed most?
This past year, the Religious Committee met weekly, which was different from the year before because it was more of a Bible study instead of just a get-together. I really enjoyed this aspect because I think it really brought the focus back to what Orientation Board is, and that is serving the freshmen and growing closer to God through it all. As far as Orientation Board as a whole, my favorite part was moving the freshmen in and preparing them for the events we planned all summer long.
Speaking of Bible studies, how has Orientation Board impacted your faith throughout the year?
It has definitely made me a stronger Christian because the people I am surrounded by are really strong in their faith and they give great advice. It is nice to have people to turn to when I have questions about my faith or even my personal life. I always know that there is a group of people keeping me accountable as a connection group leader (connection group leader is the leader of a specific group of freshmen) and other members are there to listen.
What has been your favorite memory from Orientation Board?
During my sophomore year, the All-Campus Worship really stands out in my mind, and I will never forget that night. My committee was in charge of putting this event together and we made a playlist throughout the summer to ensure that it was a successful and impactful event for the freshmen and upperclassmen. I had the opportunity to sing and share God's message with everyone, so I could not have asked for more.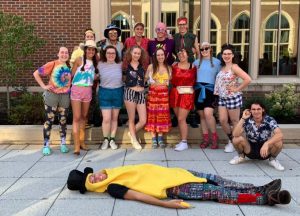 If you are interested in learning more about Orientation Board or other service organizations at Grove City College, please visit the College website.