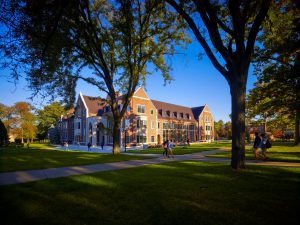 Being the youngest of four, I got to watch all of my siblings decide on which college they would attend. Whenever someone asked me where I wanted to go to school or what major I wanted to pursue, I always said, "I do not know yet…maybe a big school." In the back of my head, I thought I would go to Penn State University, but little did I realize I wanted to go for the wrong reasons. I wanted to go there not because of the different majors they offered, but because my brother was there and I would be close to him. The one school I never thought to look at was Grove City College because of the reputation it had: being a strict Christian college with challenging academics. My dad was the one who kept bringing up Grove City College, and I finally agreed to tour the campus.
When I toured Grove City College, I kept thinking "too small, too close to home." My tour was in June of 2019 and the campus was dead with no students there. After my tour, I kept thinking of all the negatives and was not giving the College a chance. That was, until I decided to do an overnight stay in October of 2019. When I stayed overnight, I finally got to "see" the College. I sat in classes as a prospective student and talked to professors and students about their experience. I also got a chance to see events that were going on with fraternities and sororities. My view of Grove City started to change, and I started to consider it a top option. After I got home from my overnight visit, all I could think about was the excitement and fun I had while I was there. I filled my parents in on my trip and after talking to them, I knew I wanted to go to Grove City. The people at Grove City want you to be there, and they want to help you in any way they can, academically or socially.
The funny thing about choosing a college is that you may think you want a big school, but you may actually want a small school and vice versa. I know that Grove City College is not the school for everyone, but to some it feels like home. Ever since I was accepted and came here, I have felt a sense of peace I could not imagine experiencing at another school. The Christian environment and sense of community at Grove City makes you feel like you are at home.
Here are some of my tips when visiting Grove City College:
Sit in different classes to get an idea of college classes
Talk to professors and students in the majors you are interested in

They are honest with you about academics but they also get to know you

Stay overnight, especially in one of the dorms, if you can.

You will get a feel for how college is and can help see if you like the atmosphere and environment at Grove City

Explore the town of Grove City, and see what is around!