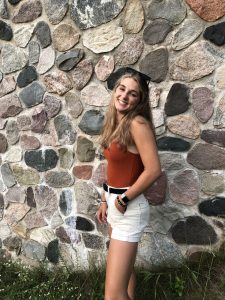 College is a time for students to step out of their comfort zone and explore. You have the freedom of living on your own and making your own decisions. Being at Grove City, this is the time where you find out more about yourself, find friends that will be with you throughout life, and where you can grow deeper in your faith, all while being surrounded by community.
Natalie Merrick is a freshman majoring in Exercise Science with a pre-physical therapy concentration, and minoring in Psychology. While her academics are time-consuming, she has learned to find a way to balance it while playing soccer at Grove City College. For Natalie, she grew up in the Cranberry Township area (about 30 minutes from campus) and knew of Grove City College from her sister going here and people in her high school. While she was looking at other colleges, she ultimately decided on Grove City because of the Christ-centered mission of the College and the soccer program.
Along with her major and being on the women's soccer team, she is also a part of Homecoming Committee and the Gamma Sigma Phi sorority. Her best piece of advice when it comes to rushing different sororities is to check your heart constantly and form relationships with people to be their friend, not to be in the sorority. When it comes to sororities or fraternities, you want to make sure that you "vibe" with the people in the group as your true self, not having a persona.
When asked about the impact that Grove City College has had on her faith, Natalie said her faith has grown tremendously because of the people that she surrounds herself with at college. She was intentional when getting to know the seniors in her sorority and on her soccer team. She said "watching them walk with the Lord has encouraged me to do the same and I've found people who prioritize their relationship with Him and encourage me in my walk of faith." She has found that her friendships here are ones that will stay throughout her life. When asked about the community at Grove City College, she said it is welcoming and inviting to everyone and encourages growth spiritually, academically, and socially.
The best piece of advice Natalie has for future underclassmen or prospective students is to "go into everything with open hands and find chances to grow and be challenged in your academics and faith." Keep your eyes open to new things, people, and opportunities God places right in front of you. Whatever you decide to do in college or whatever happens, God is always with you to help guide you and provide for you. College can be the best time of your lives, so get involved with activities, groups, and get to know people who can help push you to be a better person overall.