Every year, Grove City students travel abroad to study in Europe, Asia or South America, but who are the people who make Grove City their destination? In this series, we'll introduce you to GCC's international students and their amazing stories.  
If you didn't know Najib Afghan well, you'd think him just like any other Grove City student. He dresses well, studies hard and participates in lots of extra-curricular activities. However, Najib's story is anything but mundane—in fact, it's an exceptional example of how God works through the worst circumstances to bestow the greatest blessings.
Born and raised in the Helmand province of war-torn Afghanistan, Najib is the son of illiterate parents. When he was fifteen, he and his younger brother Hamid were cycling down the streets of their hometown of Lashkar Gah, when a rocket hit the road. The shrapnel killed Hamid instantly, while Najib sustained severe damage to his left eye. A British journalist named Jerome Starkey saw the explosion and came to Najib's aid, beginning a lifelong friendship that would open up worlds of opportunity for the Afghani youth.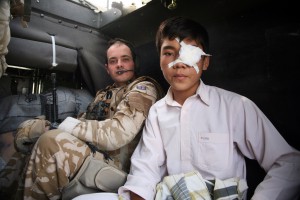 Starkey worked with Najib to locate a surgeon who could remove the 2mm piece of metal that was lodged in the boy's eye. However, no one in Afghanistan was able to do so. After two weeks, sponsored by an American charity, Najib found himself en route to North Carolina. There, a skilled ophthalmologist named Dr. Nasrollah Samiy successfully removed the shrapnel, although Najib sadly remains blind in that eye.
Najib recollects his first feelings about the United States. "During my first visit to America to Charlotte, NC in 2009 I was amazed how modern this country was and I was inspired by the US colleges and the standard of education in this country. So ever since was looking for ways to come US again to get a degree, a medical degree is what I wanted to do then. Luckily, about two years later, in 2011 I was offered three years full scholarship at Stowe one of the top private boarding school in England."
While studying at Stowe, Najib met GCC economics professor Dr. Mark Hendrickson, who was visiting the boarding school. "I was looking for US colleges with a rigorous academic environment that challenged me but also place I could get academic and financial support," Najib recollects. After talking with Dr. Hendrickson, the Afghani student researched Grove City College and found that it had "great academic excellence" and a "very supportive community." So, he applied, and was accepted. Currently studying accounting, Najib is thriving and enjoying his professors and classes. Looking toward the future, he hopes to be an entrepreneur.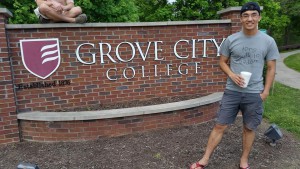 Despite being a devout Muslim, Najib appreciates Grove City's Christian environment. He even likes the shoe-in-the-door rule and the campus drinking policy. "You cannot find any more responsible, safer, nicer, and supportive college with rigorous academics than Grove City College," he says.
However, Najib has still found the adjustment somewhat hard. "It has been difficult to make a friend here that do not want convert you," he reflects. "I have my own faith and I feel strongly about it." Even still, he believes that Christianity and Islam have a lot in common, citing the prophets that both faiths share, devotion to one God and doing good deeds. "As the only Afghan and Muslim up until last semester, I hope I have played my part to break down any barrier that might exist between us."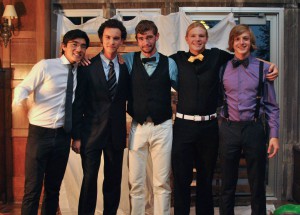 When asked to name his favorite American food, Najib answers: "Macaroni and cheese. I love them. Great source of carbs for Ultra-marathon training which I did 38 mil on August in Pittsfield, MA to raise fund for FreeToRun charity." Is there anything this guy doesn't do?
Keep up the good work, Najib. We're so glad you chose Grove City College.