When deciding where to go for school, how far away is too far? For senior Communications major Emily Bartlow that questions holds very little weight. Emily's hometown is just outside Sacramento, California and about four years ago she made the decision to re-locate to Grove City College for her undergraduate degree. The first thought that immediately popped into my mind was why in the world would someone willingly leave  beautiful, sunny California to live in not so sunny Grove City, PA?
At the start of her college search process, Emily  typed "ten most conservative schools" into Google, and shock of all shocks Grove City College was near the top of the list. Intrigued, Emily decided to fly out to Western PA and see for herself what this conservative Christian college might hold for her.  As it so happened this Californian scheduled her visit in late October, just in time to coincide with the first snow of the year. Emily, mesmerized by the snow,  remembers she fell in love with the beautiful campus and the people she encountered.  After her visit it was not much later she decided to commit to attending Grove City College.
It wasn't a snap judgement based on snow, however, that led Emily to this decision – she had a few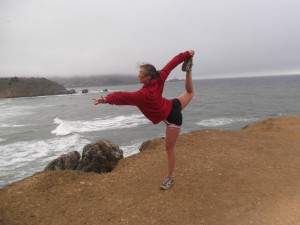 questions herself: what if she commits and then doesn't like it? It's not like she can just drive home. Or what about leaving her family? In the end, being the adventuresome person that she is, Emily  decided that even though she can't drive home on weekends, this conservative college is within driving distance of fabulous places such as  New York City, Washington DC, and Philly to name a few, and Skype dates with family bring home that much closer. For a California native, college in the wilds of Western PA seemed like one big adventure.
At first Emily did miss her family, the dry heat, and was a bit shocked by the existence of stink bugs, but after some time to settle in the adventure began.  Emily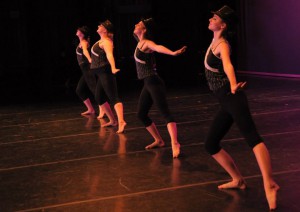 describes the upperclassmen overall as excellent in welcoming freshmen to campus, validating they did indeed make the right choice in selecting this small, conservative Christian college, and quickly found  a plethora of opportunities to get involved on campus. Beginning her freshman year on campus until now Emily has been actively involved in Orchesis (a dance group on campus), SGA (Student Government Association), various musicals including this year's Oklahoma!, and is the Life Editor for The Collegian (the campus newspaper).
But I was curious, so I asked Emily beyond classes and organizations she joined, what made her stay?  Not really a surprise she quickly answered the campus: not just the pretty buildings, but your own community of friends who quickly become family. Whether you're walking to class or down the hall to lunch, odds are you're going to see a friend along the way. Downtown Grove City and the surrounding borough, while it may not be the bustling metropolis of NYC, still holds enough charm for the adventuresome soul. Emily, who loves the area,  says there really is an abundance of things to do such as going to Emmet's Orchard, corn mazes, farmers markets, and hiking, you just have to get out there and explore.
Some Practical Tips (for the non-native Grove City dweller, courtesy of Emily):
If possible, make sure to schedule a campus visit  – not only is it gorgeous, but visiting also makes the transition into freshman year much easier if you've been at least once before.
Never, ever, ever, ever miss a flight.  You just might get the chance to spend a day and a half in LAX.
Pack light! You don't realize how much stuff you own you actually don't use, and end up taking most of it back home with you.
Bring your laptop and a good book on long flights.
Rain boots do not equate to snow boots. Make sure you have the right cold weather gear – it can get pretty chilly in the winter!
In the future (only a few months away since she's graduating in December), Emily will participate in  Disney's College Program in Orlando, Florida as part of their recreation team.  Afterwards Emily would love to work for Disney's marketing department  to uncover their secrets behind brand creation. Emily also desires to open up her own bakery, preferably in New York City, and  utilize best practices learned from Disney and her three and a half years spent at the Grove to do so.
Update January 2016: Check out Emily's appearance on Food Network's Cake Wars here!