In August of 2013, Grove City College opened the doors to a $39.5 million state-of-the-art facility: the Science, Technology, Engineering and Mathematics (STEM) Hall. STEM Hall has become the second home to many students, including myself, on campus due to its unique features. I have highlighted my three favorite below.
1. The open-air atrium
The open-air atrium of STEM Hall is the perfect place to work on group projects and study. With large tables to spread out and expansive windows to connect you to the outdoors, the atrium is always packed with students from all majors. The atrium boasts sage-glass windows, which darken in bright light to reduce sun glare and radiant heat.
2. Glass Walls
Emphasizing the idea of "science in sight," the laboratories in STEM hall are glass-walled. This concept aims to demystify the work scientists do in the lab and encourage more students to take up STEM studies.
3. Dry-Erase Walls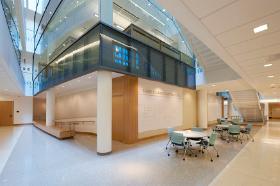 The walls in the basement can be written on – they feature "wall-talkers," which allow the walls to function as dry erase boards. This makes the basement of STEM perfect for working out problems, diagramming reactions and brainstorming ideas.
For more pictures of STEM, be sure to check out these panoramic photos.
Note: The photos from this post were taken from the Grove City College webpage.