Abigail Cunningham, '17, is a Communications major from State College, Pennsylvania. She interned at Hope for New York in New York City during the summer of 2016.
1. Where d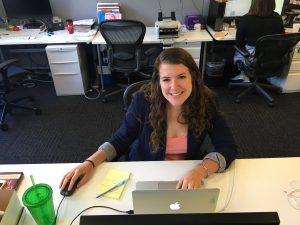 id you intern last summer and what was your position title?
I was the communications intern at Hope for New York in New York City. Hope for New York is a nonprofit that works to mobilize financial and volunteer resources to different charities around the city. People can donate to Hope for New York, and the organization disperses that money based off of needs to different deserving charities across the city. In addition, if an individual, group, or family wishes to volunteer, but they do not know how to get in touch with charities, Hope for New York will connect those volunteers with organizations of interest. The company works for a lot of different demographics such as risk adolescents, teen moms, children, un-incarcerated men and women, and the homeless. As an intern, I worked on the blog, worked on increasing the company's social media presence, and wrote thank you letters to donors. I also worked on two big projects throughout the internship and presented a new strategy for their Instagram as well as a proposal on how to reach millennial donors more effectively. I also had the opportunity to present this proposal to the staff and communications director. It was a really cool experience to see how my suggestions on how to change their website and Instagram were taken into account months after my  internship.
2. How did you secure your internship?
When I started looking for internships, I knew that I wanted somewhere that I would not have to pay for housing. I have some family that work in NYC and they offered me free housing in exchange for nannying for them part time. My sister-in-law is an event planner at Redeemer Church, which was started by Tim Keller. Redeemer started Hope for New York and shares an office with the organization. My sister put me in contact with the communications director and we chatted back and forth. I later went in for an interview, and they gave me the position.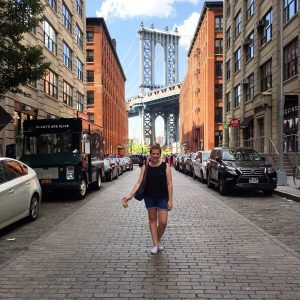 3. What are some of the top things you learned while interning?
I learned that emailing is such a vital form of communication in the professional world. My internship emphasized the importance of writing emails, having proper wording and grammar, and responding quickly and efficiently. I also learned how to be flexible with people who come from a different background. I also learned how to have an honest and understanding dialogue others of differing views. I also observed difficulties within the non-profit arena. Part of the difficulty results in working for the Kingdom while also catering to the demands of this world.
4. How did your Grove City Education help you?
My college experienced helped me prepare me for hard work. There are a lot of people on this campus that work really hard and our professors as well as peers expect us to do our best, not slack off, and set a high standard for ourselves. Going into my internship, I had that mindset of hard work that I realized is not as evident in other places. Grove City also equipped me to use my gifts to the best of my ability and for God's glory. The Communications department, in particular, helped me form cohesive and systematic thoughts and arguments.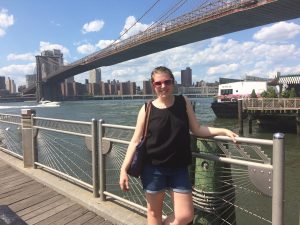 5. What was your favorite part of your internship?
My favorite part of the internship included the office environment. It was cool to be around other Christians in an office setting. They worked really hard and did a lot of work, but at the end of the day, they really cared about each other as people and were working towards serving the Lord.