Did you know there are over 130 student clubs and organizations to get involved in at Grove City College? Not only are there the typical intramural sports clubs such as lacrosse, soccer, basketball, and volleyball, but there are also unique organizations such as euchre, fencing, hiking, and horseback riding. With all the options to play sports, sing, or learn something new on campus, students surely find a way to act on their passions to create opportunities for people with similar interests to come together.
I was able to talk with a few students about some interesting clubs they a majority of college campuses do not offer. Junior Connor Monahan is studying Mechanical Engineering and is involved with the Newman Club. Connor said, "The Newman Club is a Catholic Campus Ministry group on campus. We have weekly meetings where we bring in local speakers or campus faculty. We also participate in community service projects." This is a club for students who are either Catholic or want to understand more about Catholicism. The Newman Club is an awesome opportunity to branch out on campus.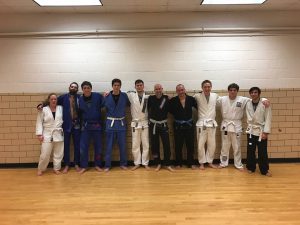 We also have a club focused on martial arts and various types of fighting and wrestling. Sophomore Nathan Smith is involved with this program, and explained, "The martial arts program has primarily turned into a Brazilian Jiu-Jitsu club. We meet every Tuesday, Thursday and Saturday…we learn some new techniques, drills, and then we grapple. We have a lot of dedicated people in the club who have even joined Brazilian Jiu-Jitsu academies back at their homes!" Unlike other campus groups, the martial arts program can be expanded on and off campus. According to Smith, "We recently invited my instructors from my gym back in Ohio to put on a seminar here at GCC. The program had an excellent turn out and everyone had an amazing time. We plan on doing another seminar next semester." Martial arts programs provide students with great opportunities to include previous involvement in similar extracurricular activities into their college life.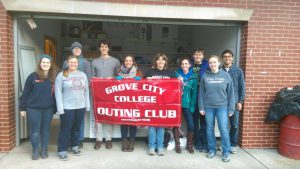 Not all Grove City clubs are on the College's campus. For example, the outing club meets on campus, but mainly consists of hiking, camping, and other outdoors-related activities. Senior Philip Dudt who has been involved since freshman year said, "We enjoy God's creation on trips over breaks (backpacking especially), fellowship with friends at the club's cabin, and lasting memories made during car rides to these remote locations we hike." This is an ideal club for those who enjoy hiking and backpacking, and a great opportunity to get to know the area around Grove City.
With all these great organizations being offered to Grovers of all grades, it is a difficult decision to choose one specific organization. Subsequently, there will be another post discussing students' experiences with more unique clubs. Along with what is listed on our GCC website, there are many other groups and clubs that you can learn about at the Organization Fair. The fair takes place during the first few weeks of school and provides Freshman with the chance to meet members from each club and learn about what they do throughout the semester. These are great opportunities to get involved and meet new people as you start your Grove City College career.