If you couldn't tell from my previous post, I love city living. From the abounding culture to crossing the street when that pesky red hand shines at you from across the road (but come on, there's not even a car coming down the street), there's something about being in a city that just makes me feel at home.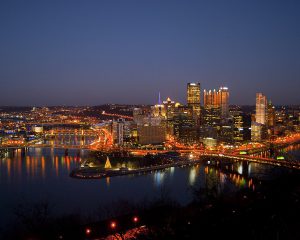 I grew up outside of the Big Apple, the City the Never Sleeps, NYC, so moving to Grove City required that I shift my recreational expectations. Don't get me wrong. Grove City is full of activity, and you will never be bored if you use a little creativity. From hall gaming tournaments to late-night strolls, there's enough to keep you entertained.
But what about when you're yearning to be honked at or explore a museum? One of my favorite things to do on a free weekend at home is take the train into the city and visit the Met or the MoMA, maybe even see a Broadway show.
Well fear not, city slicker, for you are within an hour of a wonderful city: Pittsburgh!
The Steel City has everything you'd ever want from a thriving metropolis. If you want an art museum, you're going to have to decide what type of art you'd like to see. To be completely honest, I haven't been to the Warhol Museum (yet), but it's one of the next destinations I need to visit.
And don't forget about the Carnegie Museum of Art. From Van Gogh to Warhol, the museum offers a wide collection for patrons to peruse and enjoy.
For the foodies out there, Pittsburgh restaurant scene has a lot to offer. Pittsburgh's restaurants span from Argentinian steak houses to Ramen bars, you won't be wandering around for long before you find a place to savor a delicious meal. Recently, I went to Gaucho, just outside of downtown and had one of the best Latin skirt steaks I've ever enjoyed, and I've had a lot.
And if music is your scene then you need look no further. From Jon Bellion at Stage AE to some rando's basement hosting one of my favorite local bands from NJ, there is no shortage of concerts.
Despite all the wonderful things Pittsburgh has to offer, I don't make it down their often, and that's nice. Pittsburgh is a great city, but when you're at Grove City College, this is where your life is located. If I'm ever missing my fast-paced, traffic-filled, Starbucks-on-every-block life, I know I can head down to the Burgh.
But don't think that there's nothing to do at this place because there's only a dull moment if you allow it to creep in.
As much as I love blood pressure that shoots upward due to caffeine and adrenaline, the country provides a respite, a place to focus on friends and studies.