Big red bows adorned buildings of Grove City College as a reminder to the student body of an opportunity to show appreciation to the many donors that support the College. "One Day of Thanks" was held on Feb. 21, 2017 as a day long recognition of appreciation which encouraged students to write letters to donors.
Members of the Crimson and White Society begin the day by hanging up crimson bows of all sizes on campus buildings such as the Library, Rathburn Hall, and the Breen Student Union. The bows serve as visible reminders to the students to take time out of their busy schedules and head to the Student Union where there were supplies available to write thank-you letters to a donor.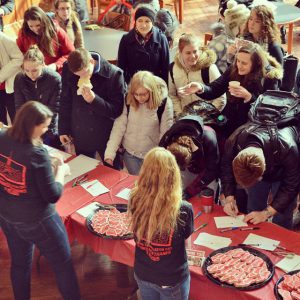 A large table set up in the Student Union was manned by volunteers from the Crimson and White Society as well as GCC employees from the Carnegie Alumni Center. Some letters of gratitude were short and sweet, while others were long and thoughtful. The point of the letters is to express to the donors just how thankful the GCC student body is for their continual support and efforts to support the college. The Crimson and White Society not only wants students to have the opportunity to show their gratefulness to their donors, but to also wants to show the students how much they appreciate their participation in the event. After writing a letter, students were provided with delicious bow-shaped cookies, Refresca strawberry mint tea, and hot beverages. 
An incredible amount of attention,  advertising, and outreach is poured into One Day of Thanks. Crimson and White Society Advisor, Margaret Noel, encourages the members of the society to broadcast One Day of Thanks on their Instagram, Twitter, and Facebook accounts. For example, many students shared selfies on Instagram with a bow to alert their GCC followers of the special day. They captioned their posts "Write a letter & eat a cookie!" or "Show your gratitude and write a letter to a donor!" It did not take students long to take the hint, head to the SAC  to grab a bow cookie, some refreshing  strawberry mint tea, and a letter to write to a donor.
In its fifth year, the annual event continues to grow and become more successful. Rachel Hawranko, the president of Crimson and White, shared about how she has witnessed the development of the event. 
"I think the event gains more recognition each year, and I hope that students will continue to see the value and importance of recognizing and thanking our donors." – Rachel Hawranko
 The One Day of Thanks is a great way to express gratitude to the college's donors that current students not only appreciate their support of their college, but how they value a relationship with them. Grove City College cares for its community and fellowship with the individuals that are invested in their mission. The faculty and students echo the words of Matthew 18:20 "For where two or three are gathered in my name, there am I among them" and take it in action when they host events such as One Day of Thanks as a way to glorify God.