Okay, I am a little biased as a sophomore Entrepreneurship major (or ENTR for short), but in my humble opinion the ENTR program is honestly the best major on campus. Sorry, I will try to impartial – let's reword the title to something more specific, shall we? "5 Reasons Why Entrepreneurship is the Best Major on Campus for Me or Any Student Interested in Innovation, Chicken Wings, and Serving God."
Wing Nights
There is this amazing thing that happens every few weeks imaginatively called, "Wing Nights." These events are rare and they involve a trip to a restaurant in the next town over, Rachel's Roadhouse. Professor Sweet (head of the department) will order almost 200 wings for the students lucky enough to be there and the check is covered by the department.
It pains me to admit for every Wing Night that has happened since my arrival on campus I have been to – I have yet to miss one. These dinners are so much fun because it is a chance to get away from campus and enjoy endless, delicious wings. Every time there is a new freshmen class of ENTRs we take them out on a Wing Night so they can get to know one another right after classes begin. For my class, this was crucial to our relationship as a group. We were able to talk about our lives and our professors believe now we are the tightest knit group to ever be in the department. We are a happy little family – but more on that later.
Kingdom-minded Entrepreneurship
As part of a Christian college, it is a no-brainer that God has to be integrated somewhere in the ENTR studies. For me, this is my favorite part of being an ENTR student. The main question, "How can we use our talents as entrepreneurs to spread the Word of God?" Just as an example, there is an entire course dedicated to social entrepreneurship. Students spend the whole semester reading books about tactics used in foreign areas that work spectacularly or completely fail. I am in the next level up of that class and I call it a "lab for ENTRs" because not only are we learning about the importance of being a Christian entrepreneur, but also studying different case studies of service-oriented businesses as well as developing one of our own in class.
Hands-on experience
Everything about the studies as an ENTR is about trial and error. The projects are not hypothetical, they are 100% real and can be taken out into the real world. Professor English has several products displayed in her office that started out as just ideas in her class. In one of her evening classes required as part of the major, ENTRs (and others)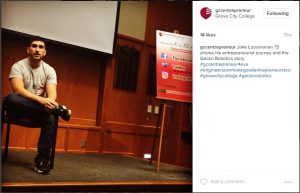 gather into teams and develop an entire business for the duration of the 14 weeks. This involves a lot of customer research so the team members have to set up interviews with experts or potential customers and pivot their idea as they talk to more people. Fun fact: this process is called, "getting out of the building."
Another example is Professor English's elective course, "Startup Founder's Dilemmas" which dives into all the pitfalls that can come upon an entrepreneur in the real world. On top of classes, alumni and business professionals come for guest lectures regularly to share their experiences "out there." One week we had the current CEO of Panera as a guest speaker!
Money, money, money
Don't get too excited, it is not free money. The Center for Entrepreneurship and Innovation (a brainchild of the ENTR department) sponsors SO MANY competitions throughout the year that offer cash prizes. Outside of the campus, there are also multiple competitions Grove City College attends and wipes the floor with. A few on campus competitions are the Elevator Pitch, Shark Tank, Venture Lab, Business Plan Competition, and the Makers' Design Competition.
Ohana means Family
I find it hard to express in words the kind of bond we have as a department. When I came in as a freshman, there were 14 people total in my class and only four of them were girls. Due to our size, it is pretty easy to get to know the people in the same classes on a personal level. We do so many projects throughout our a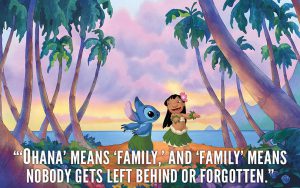 cademic careers that by the time the first semester is over we each know each other's skillsets – we do not even need to ask anymore. Beyond the classwork, we enjoy each other's company because we are all super awesome people. Even with the professors they go above and beyond to know who we are and encourage the innovation within us.
To better explain the ENTR department check out this video I made for Senior Crimson Day last fall. It shows you everything you need to know about the wonderful ENTRs.