Grove City College is following the footsteps of many other universities and supporting the battle of children fighting cancer by promoting and endorsing the non-profit organization, Love Your Melon. The non-profit partners work in the field of pediatric oncology, fund cancer research initiatives, and provide immediate support for families of children battling cancer. Fifty percent of the profits from the sale of all Love Your Melon products is given to non-profit partners such as Make-A-Wish Foundation, St. Jude Children's Research Hospital, and Alex's Lemonade Stand.
Love Your Melon became active on campus during the fall of 2016. There is an executive board for Love Your Melon on campus that is led by a Captain – Emily Breen – who is in charge of the other members affectionately called the "crew." Under Emily's leadership, lots of hard work and effort has been underway since GCC became partners with the non-profit. The crew on GCC campus is comprised of three other members. Vice Captain Amber Coryell is in charge of making sure they are obtaining enough credits. Public relations is handled by Tabitha Walker, who is in charge of all the social media sites. The final crew member is Secretary Anna Reed, who is in charge of making sure people know about meetings and events on campus. Despite the huge amount of time and effort that has been required to get Love Your Melon off the ground at GCC, it is all worth it when the crew and captain see the positive impact their efforts have in the lives of children fighting cancer.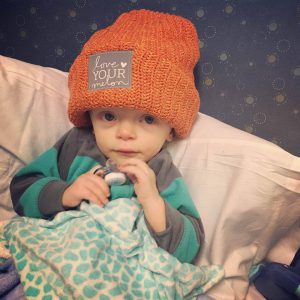 "You have to remember no matter what they are going through they are still kids. They will insult you, pick on you, and plain and simple, have fun with you. That's the best part of allowing the kid to still be a kid."

– Emily Breen
A year may not sound like a long time to make an impact, but Love Your Melon has made quite an impression to the GCC students. In one year they have been able to fund-raise for Luke Blanock, an 18 year old that wanted to marry his high school sweetheart, but was sadly diagnosed with terminal cancer. The crew partnered with other schools to make and sell t-shirts, hold bake sales on campus, and also manned tables in Breen Student Union for promotional events. Through their work they were able to bless Luke and his sweetheart Natalie with $3,500 dollars. Emily Breen shares that her favorite moment was seeing how much Luke and Natalie appreciated their gift.
Although universities all over the United States are establishing "crews" on their campus to support the mission of Love Your Melon, it is faith that makes GCC's crew stand apart from the rest. The seriousness that comes with the fight against cancer can weigh heavy on the individuals involved, but at the end of the day the only thing that will combat that weight is clinging to God's promises. Emily shares that there have been many times when they have received the unfortunate news that one of their "superheroes" – the name they give to the kids they visit – has taken a turn for the worse or passed away. However, it is in those trying times when they support each other, recognize that control is out of their hands, and testify that they can only share the joy that the Lord has given them through this time of faith.
In order to share the joy that the Lord gives freely, the crew looks to Proverbs 17:22, "A cheerful heart is good medicine, but a crushed spirit dries up the bones." This verse is applied to various outreaches, especially when they go and visit a superhero. They cannot go into the visit with sadness about the circumstance, because that only brings those people involved down even more and steals what is left of their joy. Therefore, the crew relies on the joy that comes from the One who is the filler, which means their cups will never run dry. Every visit with a child encourages the members to make their hearts cheerful.
The Love Your Melon crew is doing wonderful work both on and off campus in an effort to keep filling hearts the hearts of the superheroes with joy. So keep your eyes open for their upcoming "Melon Mania Day" which is a day to raise awareness about Pediatric Cancer.