For the past three years, I have had the pleasure of living with my best friends. Grove City College offers a wonderful opportunity to not only join various communities but, in the case of housing g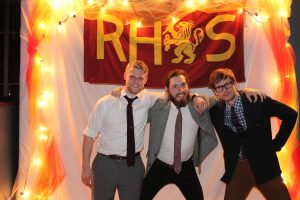 roups, fraternities, and sororities, to also live with them.
The Rhos are an independent men's housing groups. For those unacquainted with Grove City culture, housing groups are essentially groups of guys who live on an assigned hall together and throw an event or two on campus.
For me, however, the Rhos have been so much more than a guaranteed place to live. They've been my best friends, my teammates, my roommates, and my role models.
I joined the Rhos because I befriended a few of them in theatre and then got to know the rest of the guys of the course of the year.
It's a strange group culture in that usually groups are joined for a specific unifying factor. The Rhos are different in that you join primarily because of your friendships with individuals.
We like to believe that the Rhos are its members, not the members are Rhos. Everyone brings their own personality to the group and molds the experience for each other.
I'm thankful for the community I've been given. There's nothing like it.