Grove City offers many worthwhile majors and minors to pursue, but if you are like most students, you will have a few general electives to fulfill as well. "General Electives" are classes of your choosing! This requirement gives students a great opportunity to explore topics and activities beyond their regular area of studies, and you can have a lot of fun doing this.
One of the most fulfilling and satisfying electives that I have ever taken is Pottery. Professor Rhoades has maintained a quality program for students with courses encompassing handbuilding, wheel throwing, sculpture, pueblo, raku, and advanced ceramics. When you are using the medium of clay, the process is always the same, but you get to choose what the final product will be. Here are some examples of the work you can create and keep at the end of the semester: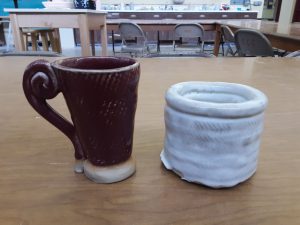 The following is a very basic description of how you begin to work with the medium of clay. You begin by wedging, the technique of mixing and rolling clay to make it consistent and remove air bubbles (air bubbles can cause problems when you fire the clay, mostly by turning your new piece of artwork into a mini explosive in the kiln). Once you have wedged your clay you can begin to create its form. There are two main techniques for doing so – handbuilding and wheel throwing. Your clay will slowly dry over time, and you can work with it until it reaches the texture of leather, at which point you cannot make any further alterations (aside from starting over again). Once your pottery is bone-dry you are ready for the kiln! First, you will bisque fire your work, then you are ready to glaze with a variety of different colors. Once you have glazed your pottery, you place your work back in the kiln for a glaze fire. If there are any runs that you do not like from your glazing then you can sand them in the studio to polish them up!
For anyone who is hesitant because they don not believe in their artistic ability, I would encourage you to take a look at my first piece of work. It is by no means a masterpiece, in fact it is an embarrassment! But Professor Rhoades is very generous and will reward you for your efforts and improvement! Yes, even this humble piece of pottery was A-worthy.