What is the ICO Fair? What does it offer?
The Inner City Outreach (ICO) Fair is an event held in the student union every fall semester. The goal of this event is to inform the campus community about what ICO trips our college offers and how they can learn more about the details of these trips. This year we had informational tables set up for ten different ICO trips, most of which will be serving during spring break and the others over Thanksgiving or fall break. The trips in attendance were ICO Los Angeles, Rhode Island, Tucson, Guatemala, Philadelphia, Czech Republic, Chicago, Buffalo, and Grove City.
How did the campus community respond to the fair?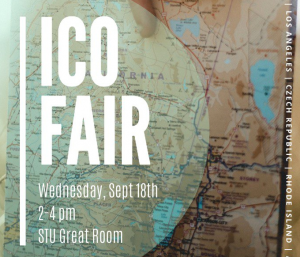 There was a great turnout from the community at the fair. Each trip had a table with their respective leaders there, ready to answer any questions about their trip and offer some insights that might help any fresh faces decide which ICO could be a good fit for them. Although the trickle of students coming in and out of the fair was steady, there was no one trip that dominated the students' interest. Each table consistently had a number of students around and ready to hear what the leaders had to say about their trip. Most students made it a point to cycle through the room, hearing the stories of each individual trip in attendance, making sure to really get a feel for all of the trips and see where God might be leading them on this journey of service.
How can the students receive more information?
Students can sign up for email lists for individual trips to receive updates as well as look to various posters around campus. This will allow students to know when and where info meetings are being held and how they can take steps toward being on the team of their choosing.