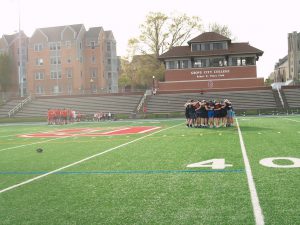 If you are a retired high school or even college athlete, like myself, you will find yourself itching to get back on the field or court and play sports again. Grove City has some of the best intramural sports out of any school in the country. The College offers almost every sport you can think of, and if the sport is not offered then you can get a group of people together to try and get it organized for the upcoming season. I have personally participated in football, basketball, volleyball, soccer, softball, and dodgeball.  There are plenty of opportunities to get involved in IM sports because there are two different seasons during the academic year. Also, another great thing about IM sports is that not everything is a physically demanding activity. There are also IM sports for Euchre, bowling, spikeball, and even a couple of video games. IM sports have become a very inclusive thing here on campus and allow all students to enjoy some friendly competition.
There are also Intrafraternal sports for those that are in fraternities. IF sports are just like IMs but on another level of competition. There is an IF cup that is awarded to the winning fraternity after the IF season, which lasts all year long. The sports that fraternities will play in the fall are football, basketball, and volleyball. This fall was pretty condensed so there might be more sports in the fall of 2022. Then, in the spring semester, there is softball, dodgeball, and soccer. The competition of IF sports is much greater than IM sports because you are playing for your fraternity and competing towards winning the IF cup at the end of the year.
Whether you are competing in IM sports, IF sports, or both you will have a great time and as a freshman, it is an amazing way to go out and make friends. I made a football and basketball team with some guys on my hall who I did not really know and we are still friends in our last semester of college.